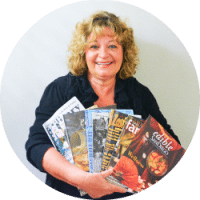 "I spent 34 years saving lives. Now I'm saving mine."
This is how I explain my transition from full-time registered nurse to travel writer. 
The transition didn't happen overnight. But the moment I realized that travel writing was my answer to retirement and the rewarding second career I was seeking, I was determined to make it work.
I loved nursing so I wasn't running from a bad career or from a job I hated. Rather, I was running to something—something I'd been passionate about my whole life… travel. 
My magic key to success was making this transition before I was ready to hang up my stethoscope for good.
On breaks and lunch hours at the hospital, I researched destinations, unique story angles, and publications that might be a good fit for my articles.
I set aside specific days off to focus on writing. Eliminating distractions was a major factor. While working on a story, I turned off social media and email.
I kept a working list of story ideas. And though I set goals like "today I'm working on that pitch or query" or "this morning I'm going to finish this museum story," I allowed myself flexibility to switch gears and work on something different I felt more compelled to write that day.
I found it very important to write about subjects I love and I'm passionate about. 
Then I began to submit those stories. 
I was elated at receiving the first email from an editor saying "Congratulations. Your story has been accepted for publication."
That feeling propelled me to write and submit more articles. It became my "peat and repeat" strategy. (Read my tips on launching your travel-writing career here.)
Before I knew it, I had another story and then another published. Seeing my name in print was almost indescribable. 
When one article landed me a cover story with a photo I'd personally taken, the reality hit me that I was really making this happen. My transition to retirement was working out beautifully. 
At this stage of the game, money wasn't as important to me as getting published. But I was actually getting paid for my stories, too. And getting paid well.
An opportunity to cut my work hours landed in my lap and enabled me to do more traveling. The change from full-time to part-time made all the difference for my travel-writing career, but also for me personally.
I had time to rack up more bylines and travel perks. I was being invited on all-expenses-paid press trips.
Finally I made the decision to retire from nursing and claim my ticket to the future as a travel writer.
While nursing provided me years of satisfaction taking care of people who needed it most, I realized I'd done my part. Now it was time to explore world destinations I hadn't yet experienced.
And the best part is that I get to share those incredible experiences with others, propelling them to travel or see the world through my eyes.
Yes, I did it. And it's one heck of a great life!