With so many new models on the market, camera-shopping can be a daunting experience. Here's my advice on buying traditional DSLR vs. mirrorless cameras…
My new favorite camera turns out to be the same camera I've carried for the last year.
I broke it out this past weekend to take some photos for items I'm selling on eBay and I was reminded how much I love it!!
Confession: You know it's bad when you break out your camera and realize the photos on the memory card are more than three months old.  If this is you, I'll have some shooting recommendations for you later this week.   We can get back into it together. 
In the meantime, if you're in the market for a new camera, or you're ready to upgrade, here's my advice for buying a digital camera that's right for you…
The one and only camera buying rule you need is: If it's not fun to use, you won't use it.
Trust me.  It's easy enough to get so wrapped up in life's daily rituals that you forget what makes you happy and what you enjoy doing.  Unless you love technology, adding a big, bulky camera to your camera bag isn't going to do you any favors when you have some free time and head out for a walk.  You'll take one look at it and decide not to bother.
But if the camera is light and fun to use, you won't need to think twice. (I'll include a chart of my favorite "fun to use" cameras that create saleable images below.)
Readers of this newsletter typically fall into one of three categories…
The beginner group who just wants someone to tell them what to buy.
The more experienced group who wants to upgrade but doesn't have the time (or the patience) to read through camera reviews online.
Those one or two who just want the best of the best no matter what anyone says.
Group #3 is easy to shop for.  Canon and Nikon make GREAT full-frame, top-of-the-line cameras.  Right now, the best on the market are the Canon – EOS 1DX Mark II
($5,999) or the Canon EOS 5 D Mark iii
($3,099) and the Nikon D5
($6,496.95).
Full-frame means the image sensor size inside the camera is the same size as a 35mm film frame (36×24mm).  And that typically means: better image quality, greater low-light performance, sharper images, and increased ability to blur the background with a smooth, creamy depth of field.
It also means you have lots of data so you can crop the image if you don't get the composition right when you first take the shot and you'll still have plenty of room to export a nice, high-quality image you can sell.
These nicer cameras with full-frame sensors also come with some disadvantages, too.  They're typically heavier, bulkier, come with lots of extra bells and whistles you need to learn and manipulate, AND they also export very large raw and jpeg files – we're talking as large as 75MB per photo!
With these big boys, you'll need a very large hard drive to store all your images and you'll spend more time downloading them and editing them because they take longer to load.
The benefits outweigh the disadvantages for some professional photographers.  But I never recommend starting on one of these bulkier, harder-to use cameras. Even most pros will tell you they use smaller cameras on assignments when they can. They don't like lugging around a lot of gear any more than you do.
Photography can be a nice side income but only if you take pictures.  You can't sell photos you never take. As I said, if the camera isn't fun to use, you won't use it.
So here are some other options (including an option for those who just want me to tell them what to buy)…
The new, mirrorless camera
There's a new kind of digital camera technology that's changing the photography market as we know it.
Cameras today are coming out without mirrors inside.  Aptly named, these mirrorless cameras are much lighter and smaller because their new technology bypasses a lot of previously needed equipment inside.
Here's the difference between a regular SLR camera and a mirrorless camera, on the inside: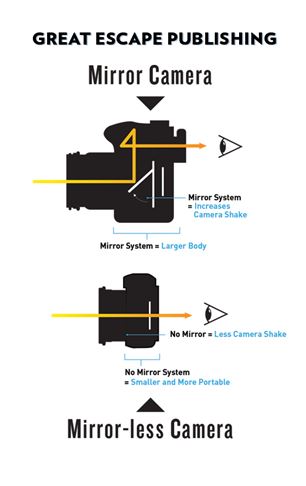 When these cameras first hit the market back in 2008, everyone loved them but treated them more like toys than tools.
Over time, however, camera companies like Sony, Olympus, Panasonic, and Fuji have improved their offerings and several have introduced more rugged (mostly weatherproof), professional-grade bodies and lenses that now compete with even the bulkiest of bulky, high-end cameras.
Are they "better?"  No.  Not yet.
Are they more fun to carry around and get great, amazing photos at nearly half the price and half the weight without sacrificing half the image quality? For sure!
They also don't export 75MB files and instead typically generate just 12-16MB images which is great for your hard drive (and your patience).
Lots of factors go into the final quality of an image, and size is only part of the story.   There is obviously a lot more data in a 75MB image than in a 16MB one.  But, in most cases, you won't be able to tell the difference either on the computer or in a large print.
And remember: Ultimately, I believe you'll have more fun shooting with a camera that's lighter and produces better images, too.  All the cameras below are capable of taking professional-quality, saleable images.
Here are your top choices for a mirrorless camera today…
| | | | | | | | | |
| --- | --- | --- | --- | --- | --- | --- | --- | --- |
| Camera | Sensor | Mpixels | Image stabilize | Video | Controls | Lens availability | Viewfinder | Body only |
| Olympus EM1 Mark II | micro four thirds | 20 | on the body – excellent | excellent | great | the best | great | $1,999 |
| Olympus EM5 Mark II | micro four thirds | 16 | on the body – excellent | excellent | fine | the best | fine | $899 |
| Fuji XT2 | APS-C | 24 | on lenses – excellent | fine | the best | excellent | the best | $1,515.59 |
| Sony A7s II | full-frame | 12 | fine | great | fine | limited | fine | $2,698 |
Some notes…
1. Don't get too carried away with the size of the sensor ("full-frame" being the largest, and "micro four thirds" being the smallest).  It's important.  But it's not the whole story.
2. Don't get too carried away with the number of megapixels either.  Again, it's important.  But it's not the whole story.
All of these cameras have high-quality sensors that will produce images you can sell.  And all have enough megapixels for what you need.
So which do I recommend?
After reading all the reviews online (and owning the Olympus EM5 myself)… and knowing what I've said to you before about cameras versus lenses (I think investing more in good lenses is smarter than investing more in the top-of-the-line body because bodies change and improve every year)…I recommend the following…
Olympus mirrorless cameras
Olympus and Panasonic share the same lens mount so their lenses are interchangeable.  This means they have the widest assortment of pro-quality lens choices at this point.
They also make excellent cameras.  And they have the best image stabilization. None of the other brands compare.
If you can swing the EM1
body ($1999) without a lens, that's my choice for you.
It's fun.  It's lightweight.  It shoots great video in addition to great photos.  And I'd buy the Olympus M. 40-150mm F4.0-5.6
($99) lens separately.
I also like the Leica 25mm f/1.4 Micro 4/3 Lens
by Panasonic.  It'll set you back $597.99 but it's worth it.  You can't go wrong with this kit.
Now, if you're a little shorter on funds, I'd get the Olympus EM5 (at $899, this is the camera I have), and again, I'd skip the lens that comes with the camera and buy the camera body only and the Olympus M. 40-150mm F4.0-5.6
lens separately.
I love carrying this camera, and it's built like the old Olympus film cameras so there's a bit of nostalgia feel when you carry it.  I like that.  Just note: It shoots great video but you do need an adapter to plug a microphone in.
Fuji mirrorless cameras
The Fuji X-T2
($1,515.59) would be my top pick camera if I didn't already own Olympus and Leica lenses.
Fuji, like Olympus, makes great lenses.   They've been a key supplier in lenses for the legendary Hassleblad cameras for years.  So their reputation is solid and they already have a nice collection to choose from.
I still like the lenses and the in-body image stabilization of the Olympus' more.  But these Fujis are super nice and for some people, this camera should be your top choice.  Here's why…
The viewfinder on this camera is amazing.  And I really like that the controls for ISO, exposure compensation, and shutter speed are dials on the top of the camera rather than buttons you have to click through in the menu to find.  Both of these things are big benefits for buyers with not-so-great eyesight.
Camera reviewers all over the Internet drool over this camera, and I don't think you can go wrong with it if you're just starting out and you want to invest in a good line of cameras and lenses that'll be around for a long time.
My advice to you is to find a local camera store near you (not a Best Buy or Target as they likely won't carry these cameras) and see if they have this and the Olympus in stock.  Whichever feels better in your hand should be the one you buy.  It'll be the one you like shooting with.
The best starter lens would be the 18-55mm image stabilized lens.
Sony mirrorless cameras
Sony's latest mirrorless camera (the A7s II
at $2,698) is great, too.  Seriously, you can't go wrong with any of these cameras.
Sony's greatest claim to fame is their insane ISO capacity.  You can shoot in near dark with this camera and still get a great image.  Most cameras don't fare well after ISO 3,200.  This new Sony goes all the way to 400,000 ISO and is mostly usable around the 100,000 ISO range.
It's really quite impressive.
It's not my top pick, though.  It's twice as expensive as the others and Sony doesn't yet have enough good choices to make investing in this line of cameras worth it.  That said, if you already own Sony gear, this camera sure does make shooting fun.  The night and low-light shooting is amazing!
Mirrorless cameras for buyers on a budget
Finally, if you're really on a budget, don't forget that you can also buy used or refurbished cameras and lenses from most reputable camera stores like Adorama and B&H.
And, go here for advice on buying a memory card for these cameras.
Travel Photography Resources
5 Dos and 2 Don'ts for Travel Photography
Take Great Photos And Get Paid More For Your Travel Articles
Turning a Photography Hobby into a Monthly Income
The Pros Of Selling Your Images As Stock Photography
16 Mobile Photography Tips And Tricks Every Photographer Should Know