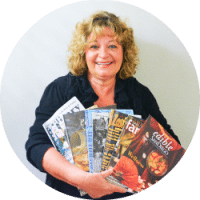 Sitting at the carwash waiting for my car to be finished, I happened to glance down at a pile of magazines. San Diego Family Magazine caught my eye. I picked it up, flipped through a few of the pages, and, lo and behold, a sentence in the editorial section read "Would you like to write for San Diego Family Magazine? For editorial guidelines, visit SanDiegoFamily.com."
This was a joyful moment for me. Just a few months earlier, I'd attended the Ultimate Travel Writer's Workshop in San Diego. I'd already landed two bylines since the workshop but was dying to get my first paid article. Since I'd been working full time as a nurse, writing for a local publication seemed ideal.
I went home and researched the writer's guidelines on the publication website. And to my delight, they paid!
Their guidelines stated that both completed articles and queries could be submitted. After perusing the magazine, a fabulous story idea popped into my head.
Our two grandchildren, ages 6 and 8, had recently visited and we'd taken them on their first real hike. The "story within the story" here was that to get kids to love the hike, you just add water.
The adventure took place in picturesque Torrey Pines State Reserve with various trails leading to breathtaking views of the Pacific Ocean. The story, told in narrative form, highlighted how to choose the right trail, plan the hike, and select the provisions and equipment to take with us.
The story went on to describe the "big day" and all the exciting things we came across on the hike. The crowning moment occurred when a pod of leaping dolphins swam past our vantage point on the cliffs overlooking the azure waters below. The kids were deliriously happy.
In the story, I made certain my word count and photos were in compliance with writer's guidelines. After reviewing the article again for spelling or punctuation errors, I closed my eyes and hit the send button.
The following morning, cup of coffee in hand, I turned on my computer and there it was—a response from the editor. My heart was beating out of my chest as I opened the email. It read:
Dear Noreen,
Thank you for your submission. I absolutely love the article. It fits perfectly with our publication and I plan to run it in April. Would you mind sending me other ideas you have for future articles? Your writing is excellent, and I'd like to invite you to be a regular contributor.
I won't deny it. I jumped up and down, hooted and hollered, and called everyone that I knew. I did it! I landed a paying gig. And I ended up writing at least a dozen more articles for that publication.
Looking back, that first paid article happened for a number of reasons, all of which involved taking action:
• I was always on the lookout for new publications to write for. Whether in the grocery store or doctor's office, my radar was always on.
• I familiarized myself with the publication by reviewing stories in its online archives.
• I followed editorial guidelines to a tee.
• I crafted a story I believed would be a perfect fit for the publication (and made certain the publication hadn't done a recent story on my topic).
• I proofed my story for spelling or punctuation errors.
• I hit the "send" button.
Writing that first paid story and getting such a positive response from the editor gave me confidence to submit and query other publications.
Arnold H. Glasow once wrote, "Success is simple. Do what's right, the right way, at the right time." It's certainly worked for me.