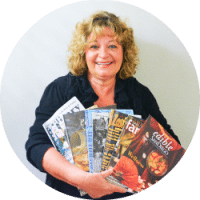 We were heading back on a catamaran to the Southern California mainland when my hubby, who's often my photographer, turned to me and said, "This was one of those million-dollar weekends."
We'd just spent three glorious days on Santa Catalina Island—a remote paradise reminiscent of the Mediterranean.
As guests of the tourism board, we were treated to a stay in a luxury boutique hotel overlooking the ocean and a roundtrip catamaran ferry ride to get there.
While there, we were wined and dined at some of the island's best restaurants and had a behind-the-scenes tour of William Wrigley Jr.'s historic casino.
We also sailed, toasted the sunset, experienced the magnificent undersea world from a semi-submersible, and explored the scenic island by golf cart and electric bike.
If we'd paid for this weekend out of pocket, it would have cost us over $1,500. But, we didn't spend a dime. This weekend of luxury travel experiences was all courtesy of the local Visitors Bureau.
Here's why we call these trips "million-dollar weekends:"
Unforgettable memories
In exchange for published articles, we've stayed in luxury villas overlooking the Sea of Cortez, night kayaked in the Virgin Islands, ballooned over California vineyards, and watched lava spew from a Hawaiian volcano.
We've dined in a cave in Riviera Maya and watched the sun set from tables on the sand in Hawaii. We've been hosted by boutique inns in Baja and given tours of iconic cities like New Orleans and San Francisco.
Castles, graveyards, museums, gold mines, sunken ships, turtle rescues, and historic towns have all been a part of our adventures.
We could ring up the value of all these trips, and we do. But the truth is that making these unforgettable memories is worth more than a million dollars. It's priceless.
Endless opportunities
These are far from the only weekend (or longer) trips we've been invited on.
Travel writers are in demand. Tourism boards are hungry for talented and reliable journalists to showcase their destinations… and they are more than willing to roll out the red carpet to make a good impression on writers.
This makes for endless opportunities for new adventures.
A Colorado ski town, coastal hamlets in California, wine regions in Mexico, an Arizona desert hacienda and spa, and the Hawaiian Islands are just a few of the places I'll be visiting this year—courtesy of tourism boards.
It's hard to believe that only three and a half years ago, I had no idea these trips existed for travel writers. Now my calendar just keeps filling up.
Unexpected wonders
Travel writing opens the door to a world of possibilities. It's like pulling on a string and seeing where it leads.
We find things we didn't know existed in our own backyards, on the other side of world, and everywhere in between.
Northern California's Mt. Shasta region with its majestic mountains, spectacular waterfalls, and pristine lakes had always been on our bucket list.
To my surprise, a tourism board rep that had seen some of my past articles invited me to come and experience this region.
The trip exceeded expectations. We didn't expect to hike through stunning 200-million-year-old caverns, explore a volcanic national park with steaming fumaroles, and stroll along the snow-covered shoreline of a frozen lake in August.
It was an awe-inspiring experience we'll long remember.
Eugene Fodor once said, "You don't have to be rich to travel well."
For the savvy travel writer, it's even better. You can experience million-dollar weekends over and over again, free of charge.