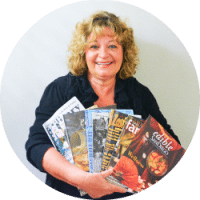 One of the greatest advantages of being a travel writer is of no surprise—the travel (often for free) and its associated perks.  
I just returned from a memorable long weekend in Southern California's Wine Country. Because I was writing for multiple publications, all with a decidedly different angle—luxury vacation rental, wine, food and coffee—I decided to set the trip up myself vs. going through the CVB (Convention and Visitors Bureau). This is referred to as a self-guided press trip.
Building your own customized FAM trip takes a little more work upfront, but allows a writer to tailor the trip focusing on specific topics they're covering in their stories. And of course, the more stories, the more perks!
I began by contacting the editor of a vacation rental magazine, knowing this wine region had never been covered in her publication. Of course she was interested. She requested two stories, one on the rental itself, the other about what to see and do in the area.
A travel publication I pitched was interested in an overall review of the wine region and what made it an ideal destination for its readers. Writing for a coffee magazine gave me the perfect outlet for a unique coffee shop in the historic district. 
Wineries are a story within themselves. And because I write for a wine magazine, I knew the editor would guarantee me an article.
Even before leaving for the FAM trip, I had five guaranteed stories in my pocket. These "letters of assignment" were my ticket to ride. All I had to do was to contact businesses willing to "comp" me in exchange for a published article.
My digs for the weekend was a luxury four-bedroom vacation home overlooking the hills of wine country. The owner even left a bottle of champagne as a welcome. And, as another perk, I was able to take my spouse!
Here are some strategies to ensure resounding success as you work on your customized FAM trip. 
1. Thoroughly research the area
Before you contact editors, do your homework on the area. Have quality pitchable ideas that are sure to grab the editor's attention. Think about why the publication's readers would be interested in the story.
2. Give yourself plenty of lead time
It may take a while to hear back from editors and potential businesses. I typically start a few months before actually visiting a location, giving myself plenty of time to fill the calendar.
3. Generate your sales pitch
Now it's time to plan your approach, how you're going to sell the idea of a free stay, free meal or free activity to these businesses. For each, you'll need a contact person.  
I start by introducing myself and who I'm writing for. I explain why I've selected their vacation home or restaurant/activity for my article and how it will be represented (as a solo story or an inclusive part of a story). 
And now that social media is becoming so much more crucial to businesses, I let them know the story will be shared in this manner. Then, I offer to send bylines of similar stories as a sample of my writing.
Not every business will respond with a "Yes," but I find most do. They completely understand this quid pro quo concept.
And lastly, don't forget to send your hosts a link to the article after it publishes.  
On this self-guided trip, I saw the sun rise over the vineyards from a hot air balloon and rode among the grapes on horseback. 
Lodging, activities, wine tasting, lunches, dinners with wine pairing, museum visits, coffee and private olive oil tastings were all on the house.  
If I had to pay for this trip out of pocket, it would have cost over $1,200. But I didn't! I just left the tips.