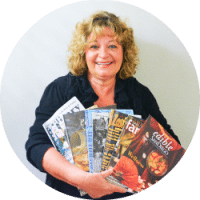 When I launched my travel-writing career in 2014, I had no idea I'd be writing about food. Travel, yes. But food?
Then it happened—the perfect story just fell into my lap.
I was a new writer, on vacation with my husband in Mexico's Riviera Maya, and discovered an amazing restaurant in Playa del Carmen. It was located in a 10,000-year-old cavern, surrounded by fascinating rock formations and natural freshwater sinkholes called cenotes. 
The restaurant with its mysterious descending staircase and spectacular underworld was unlike anything we'd ever seen before. Enticing entrees, romantic ambience, and magical surroundings made for an unforgettable evening.
So unforgettable, as a matter of fact, that I returned home and searched publications for what I believed would be a perfect fit. I pitched the idea to an editor of a travel and food publication, and he said, "Yes."
That became my first published food story.
Today, when planning a trip, it's rare that a food story is not part of my repertoire of published works. Here's why.
Food writing is fun
When I wrote that first story, I realized how enjoyable it was to share the experience. The editor loved the story, and so did the readers.
As I wrote more food stories or incorporated dining venues into my articles, I realized that I truly enjoyed finding those perfect words to describe the experience—"tantalizing," "delectable," and "heavenly," to name a few. It was fun!
It's important to understand that writing about the food is not the same as being a food critic. Food critics make or break dining establishments with their reviews. We get to present the restaurants in a positive way—because food writing is about sharing the flavors, the atmosphere, and the experience. 
Palate-pleasing perks
Writing about food requires you to eat the food.  It's that simple.
I've enjoyed numerous five-course dinners prepared by Cordon Bleu chefs showcasing their creative expertise.
I've been seated at the best tables with spectacular views overlooking cerulean oceans, pristine lakes, majestic mountains, and breathtaking cityscapes.
And I've written about unforgettable dining experiences on Hawaii's Big Island, Riviera Maya, Cabo San Lucas, the Caribbean Isles, San Francisco, and many other exciting venues. 
More opportunities to get published
Food writing doesn't necessarily have to be a niche. In a broader sense, it includes writing about wines, distilleries, breweries, and coffee—anything to do with food and beverage. 
Stories can be solely about the dining experience or can include dining as an element of the article.
My food-related stories have covered genres such as travel destinations, sustainable lifestyles, coffee, wine, and even international living.
Promotes more media trips
When a tourism board works with a writer to set up a press trip, you can be certain they'll want you to include local restaurants in your article. So they set you up with the very best.
And travel publications that cover destinations want their readers to know where to stay, what to do, and of course, where to eat.
Having food writing in your portfolio is an added benefit to landing these coveted trips. Reps can see what you've written for other destinations.
I just landed a very competitive media trip to Southern California's magnificent Santa Catalina Island. The application asked for three clips of my previous stories.
The rep responded with an all-inclusive weekend invitation to the island with meals in some of the very best restaurants. And she especially liked the way I incorporate food into my articles.