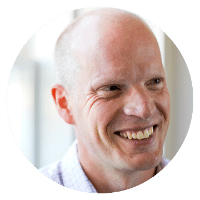 I have a confession to make. Whenever I watch a movie from the pre-Internet Age, a slight pang of envy takes hold of me. Office shots of desks without computers. Typewriters, rotary phones, fax machines. And the best thing: no email!
But nostalgia can be a dangerous thing. It rarely paints an accurate picture of what was. And the truth is we are living in one of the most exciting and innovative times in publishing. 
The opportunities for writers like yourself to put your work before readers abound. No longer do you need permission from others to bring your work to the world. 
If you're willing to think a little outside the box, you can boost your writing career. Here are some tips.  
1. Play it smart
The most innovative reporter's tool that exists is most likely in your front pocket. When I'm on assignment, I use my smartphone to capture notes, photos, and videos. 
Are there pictures I can make for a slideshow I can post online? How about a simple video to share? The better you're able to pitch your story with a multi-pronged approach, the more likely you are to get the assignment. 
Example: A print piece on spring in Boston may also be a web slideshow on the Swan Boats and a video of a simple seasonal clip of people chucking a Frisbee on the grounds of the Public Garden. 
2. Instagram it
More and more writers, photographers, and other artists are utilizing the photo-sharing site Instagram as a storytelling outlet. 
One of my favorites is Libby DeLana, a graphic designer on Massachusetts' North Shore, who shares a single image from her daily walk by the sea. She selects a beautiful image, a little detail, and some wonderful quote that sort of sums the photo and what she's feeling. You're brought straight into her universe. 
You can use Instagram, too, to help brand yourself as a writer. It offers a wonderful and relatively easy way to show an editor how you think as a storyteller. 
Try it today: Find a theme you want to explore—either something in your own hometown or from an upcoming trip—and start posting photos related to it. Accompany your images with short, detailed captions about what you're sharing and why you're sharing it. Force yourself to stay within 150 characters of text (for practice) and root the writing with a sense of place to ground the reader in the location. 
3. Pivot to video
You don't have to be Steven Spielberg to create a video that a publication's readers will love. A couple of years ago, we shared a short video of the Cog Railway on New Hampshire's Mt. Washington on Yankee's Facebook page. It was nothing fancy—just a quick clip that went straight from an iPhone to Facebook—but our readers went crazy for it. 
You can do this, too: Identify a location that intrigues you. Maybe it's a beautiful waterfall or a taffy machine at a popular candy shop. Grab a short video of it and then post the clip to your Instagram feed. Or if you're writing a story about the town or region, ask your editor if he or she would like to share it on their publication's social channels. 
4. Follow your favorites
I'm a big fan of Twitter. No, I'm not a regular tweeter, but I love finding favorite writers and editors and following them there. 
It gives me access to their work lives, as well as what they're reading and liking. It's helped me make connections that led to assignments. It's worked the other way, too. I've had writers do the same with me. They've reached out to me via Twitter or even LinkedIn with story ideas or questions about Yankee. 
Freelancing requires building relationships, and social media offers an easy way to do that. 
Start today: Identify three writers or photographers you like and follow them on Twitter or Instagram.