Starting an online store has never been easier than with Shopify (www.shopify.com). You may get excited and want to jump right in, but if you take a little time to prepare before going to Shopify the first time, the setup process will be even quicker and smoother, and you'll be able to create a unique online store in which to sell your goods in no time.
Once you're ready with a name and the product you've chosen to sell, just follow these steps:
Step One: Create an email address and PayPal account specifically for your business
You want to keep your income and expenses for your business separate from your personal accounts. Use Gmail or Yahoo to create an email account – yourbusiness@gmail.com – and then use that email address to create a PayPal account.
Step Two: Create a logo
Your logo should be clean and simple. The font should be easy to read (resist the urge to get fancy!). If you don't feel comfortable designing this yourself, you can find an artist to create a logo for you starting at $5 on Fiverr (www.fiverr.com).
Step Three: Take at least one photo of each item you have for sale
You do need pictures of your product(s) to sell. You do not need an expensive camera or a professional photographer. Just find a spot with good light and a clean, uncluttered background, and take pictures of each item you want to sell. Take pictures from all different angles – more pictures is better! But definitely, no matter what, make sure you have at least one picture for each item.
Step Four: Create a Facebook business page 
Use your personal Facebook account to create a business Page. (Go here to start: www.facebook.com/pages/create.php) You can use your newly-created logo and product photos to fill the page with life! You can use your Facebook business page to link back to your online Shopify storefront once you've created it. 
Step Five: Create your Shopify account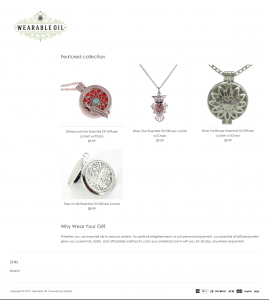 Shopify offers a free 14-day trial, so there's no risk in getting started. Use your new business email
account to set up your Shopify account. Since you already have your store name, email address, Facebook page, PayPal account, and product photos, you'll be able to breeze right through all of the steps in the setup – except maybe choosing a theme because there are so many great options. I suggest the Debut or Minimal themes to start off with. 
If you take the time to prepare before you start on Shopify, you can have your store (that's Lori's to the right) set up and ready to go in 30 minutes or less. Happy Selling!