…outdoor adventures for the non-adventurer
By Susan Dejanovic, ITWPA Member
Travel domestically and experience outdoor adventure, there's more to it than hiking and swatting bugs as beads of sweat trickle down your face.
I admit, when the world seemed to come to a stop just a few months ago, I thought the days of feeding my love of travel were over. That was until I took a road trip to the small mountain towns of Western North Carolina.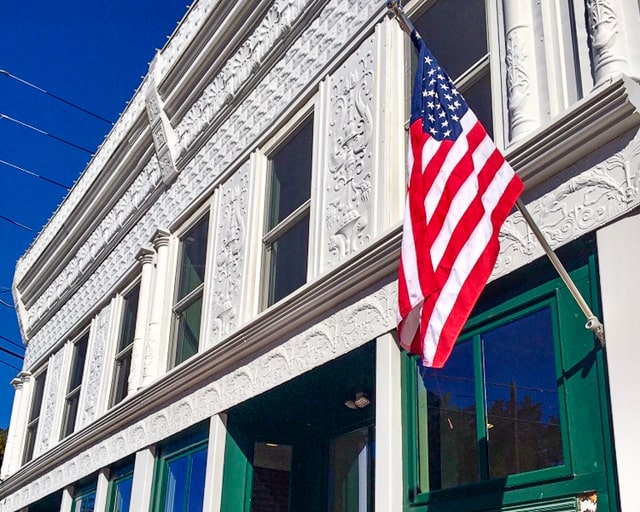 Where?
Sprinkled with general country stores, wineries, and waterfalls, the Western North Carolina towns of Saluda and Tryon are the perfect spots for outdoor adventure. Float down a river in a large inner tube, visit a vineyard and experience a wine tasting, and sit around a firepit at sunset enjoying gorgeous views of the Blue Ridge mountains. Who knew all this is just an hour outside of Asheville, NC and Greenville, SC?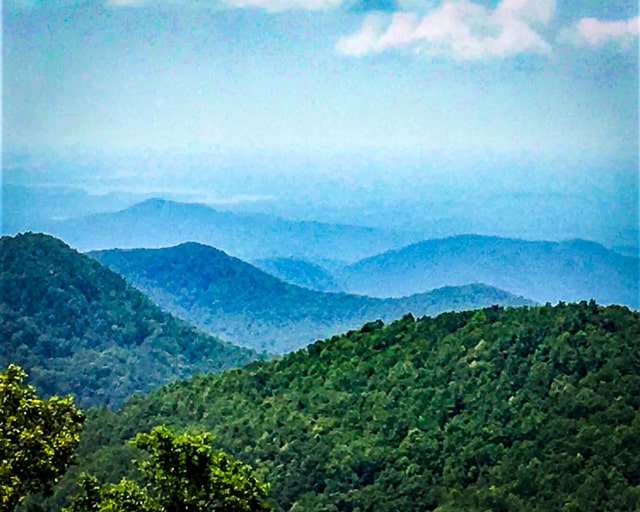 Like Mayberry USA
A visit to Saluda is like stepping into Mayberry, USA. This tiny mountain town, population 713, began as a railroad outpost in the 1800s. Today, it's four-block long Main Street is still home to the first grocer, barber, and town hall. Each is housed in their original tin ceiling and pine floor buildings. Each is on the historic register. Gift shops, restaurants, and art galleries adorned with the American flag and white picket fences greet the many people who come here for lunch and a lazy afternoon stroll.
Hiking
On your way from Saluda to Tryon, be sure to stop at Pearson's Falls, a botanical preserve with a ¼ mile flat hiking trail leading to a 90 -foot waterfall. This 268-acre forest of wildflowers, moss, granite rock, and trees, which make for the perfect leaf season, is meticulously maintained by the local garden club. For the non-hiker, this is about as perfect of a hike as you'll get. Admission is $5 and well worth it.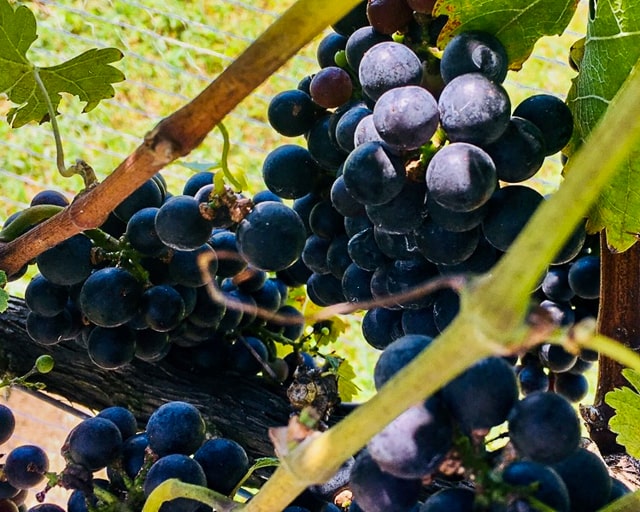 Welcome to wine country
Although I was deep in a botanical forest, just minutes away was what I really came for: the wineries. Imagine sitting among rolling hills with a never-ending view of vineyards and the Blue Ridge Mountains. These are come-as-you-are, bring-a-picnic if you like, wineries.
Lovingly referred to as the Napa of the South, you could spend a whole weekend winery hopping in Western North Carolina. Wine tastings range between $10—15 for 6—10 tastings. Grab food from a food truck or bring a picnic. The last time I visited the wineries, I brought a charcuterie board, fresh baguette, and small vase to which I added a picked-along-the-way flower. Or, as I saw one day, you could even bring fried chicken from a fast-food joint. I guess everything goes with wine.
While there are many wineries to choose from, these are three of my favorites.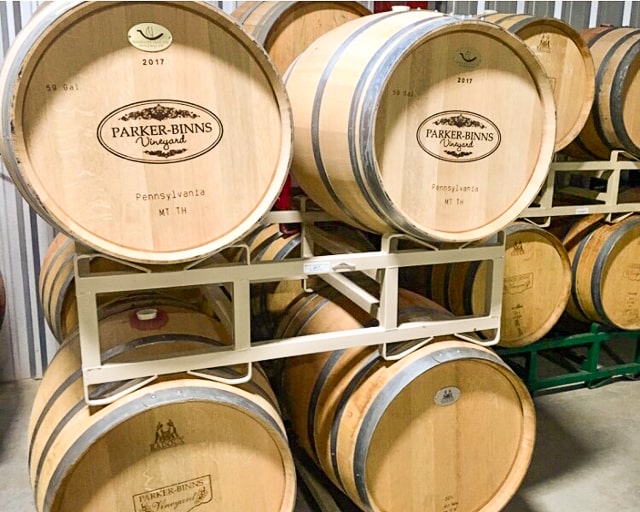 Parker-Binns Vineyard
40 gorgeous acres with a tasting room, covered patio with two huge stone fireplaces, and an outdoor seating area with fire pit and rocking chairs. Wherever you sit, the crisp mountain air greets you with fabulous views of the vineyard and rolling mountains.
This award-winning vineyard was first established for Biltmore House Wines. They host seasonal events like the annual Pig Pickin' to welcome Spring vines. It's near the world-famous Tryon Equestrian Center, home to the 2018 FEI Games.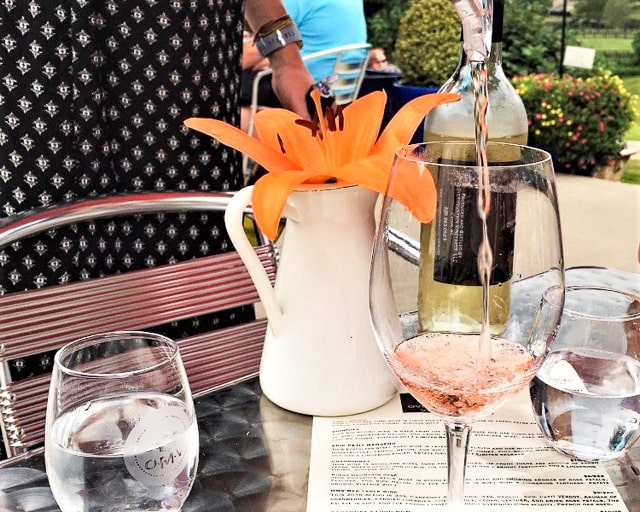 Overmountain Vineyards
Seventy-acres of hills and vines. This vineyard offers tours of the winery and vineyard, live music, and luxury villa accommodations overlooking the mountains. An expansive outdoor seating area, friendly staff, and two Great Danes that wander on this dog-friendly property round out this Western North Carolina vineyard.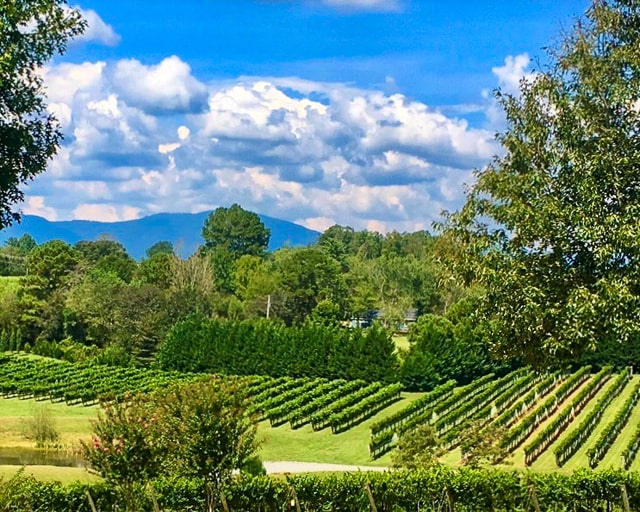 Mountain Brook Vineyard
Best firepit anywhere! The attention to detail and service is outstanding at this small boutique family-run winery. Play cornhole, enjoy a flight of wine by the fireplace, watch outdoor movies, or just sit around the massive firepit enjoying a glass of your favorite Mountain Brook wine and good company.
I can think of no better form of travel than discovering the culture and history of small towns near you.
About Susan Dejanovic—Susan is a freelance travel writer based in Greenville, South Carolina. She enjoys finding undiscovered charms, cultural experiences, places you never thought to go, and writing about them. For more of Susan's travels, follow her on Instagram. ~TPM