In March 2017, in -23 F weather at the Northern Lights Photography Expedition in Chena Hot Springs, Alaska, Bonnie Caton told me, "You're an expert at what you do for your primary job at home. Give yourself a break. This is hard."
I'd been taking photos all my life but couldn't get this brand-new, expensive Nikon DSLR camera to take a shot in focus.
I had the wrong equipment for the job.
Once Bonnie identified the problem and the generous Terry Granger leant me a different camera lens, things got better. Still not great, but better.
I went from wanting to leave to giving it a shot—and because of that I went dog sledding and bobcatting (going up a mountain in an enclosed, funicular-like machine), capturing great photos and video to sell and finding lasting friendships along the way.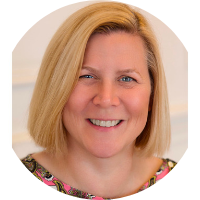 I'm a lifelong learner. I step up to a challenge. Every "No" that I can learn from is an important step to a "Yes." But sometimes even I want to give up when I run into a big stumbling block.
During that night in Alaska, was it fatigue that made me want to leave? Maybe. Was it disgust over struggling with skills I thought I'd mastered? Probably. But now, I'm so glad I stuck with it.
What makes us reach that tipping point? The point where we go from wanting to give up to willing to work through the challenge?
During the time I've studied writing and photography, any failure or delay in my progress has never been because I thought I couldn't master the action. Instead, it's because I had a roadblock I couldn't overcome without help.
That's when two actions—identifying the problem and seeking advice from my colleagues—helps me to overcome the obstacle.
In this case, when I used the wrong lens, Bonnie identified the problem and Terry helped me correct it.
In other cases, I had been studying from the wrong program (a companion course instead of the primary course). My friend Naila identified the problem, and I corrected it.
When I started my current day job, one of my colleagues warned me about the electronic medical record. "It's not intuitive. Call and ask me. I can probably tell you in 20 seconds what would take you hours to figure out," he said.
He was right.
So, if you're feeling stuck, get as far as you can, try to identify the block, and then ask for help. You'll save hours…or years.
The concept crystallized for me one day while driving home—I was behind a slow pickup…the license plate? 614*YET.
It brought me back to the idea: I don't know how to do this, yet.
Do not forget the yet.
You can be a professional photographer. There are people to help. If you're not there, it's just because you haven't reached your destination yet. Reach forward and grab the hands of those happy to pull you along. You're not there yet—but you will get there.