During this time of COVID-19, I can't help flashing back to my all-time favorite travel writing experiences. As I reflect on making the travel writing leap a decade ago, I'm amazed how my real-life experiences have exceeded my initial hopes and dreams.
My foundation for travel writing is an unlikely one. I was a Minneapolis-based recruiter in the fields of architecture and engineering. When I attended GEP's Ultimate Travel Writer's Workshop in 2011, I had mega-doubts about how my background could transition to the world of travel writing.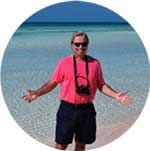 After the Chicago workshop, my naive game plan was two-pronged. I applied what I learned from the experts, and I was persistent. Eventually, my persistence paid off big time. I'd like to share seven of my favorite travel writing experiences in the hopes that you, too, make this exciting leap.
7. Catamaran granddaddy in Great Exuma.
Little did I know that embarking on a Bahamas catamaran excursion would also mean meeting a legendary Caribbean boat captain. Our feisty 82-year-old captain regaled us with stories of his decades of discoveries along the 365 islands making up the Exuma Cays.
Captain Jerry's anecdotes included finding the underground grotto featured in James Bond's Thunderball, helping David Copperfield choose his own private island, and hosting Johnny Depp during the on-location shooting of Pirates of the Caribbean. A trip bonus was stepping out in the middle of the Caribbean Sea to frolic on a quarter-mile snow-white sandbar.
6. Helicopter hotel transport in Puerto Rico.
The highlight of a three-day Puerto Rico press trip was my transportation from the San Juan airport to the first resort that I'd be writing about. You see, Puerto Rico tourism had arranged for me to fly to my destination via helicopter.
I'll never forget spying the ocean, the coastline, the hotels, and the historical monuments from my elevated view amongst the clouds. The rest of my trip staying in two 5-star hotels, sailing on a catamaran, and playing championship golf wasn't bad either. It's just hard to top traveling on a magic copter ride.
5. Dinner in a 200-year-old sugar mill in the U.S. Virgin Islands.
A tantalizing invitation arose on the heels of my interview with the Caneel Bay Resort chef in St. John, USVI. He asked if my wife and I had dinner plans that evening. When I responded "no," he asked if we'd like to dine at his restaurant.
The restaurant's exterior featured the stone remnants of a sugar mill dating back to the 1800s. The restaurant's lofty perch on a hill overlooked the resort's 170 acres and the Caribbean Sea. During a five-course meal, we were treated like royalty. Over the decade that I've been a travel writer, our impromptu St. John dinner was the best of the best.
4. Whirlwind trip to Spain.
I was invited on a six-day golf press trip to Valencia, Spain. I'd be joining two other American writers and four members of an Irish golf tourism bureau.
We all hit it off famously during this whirlwind trip covering five hotels, five golf courses, and an eclectic mix of historical sites. The food, history, golf, and companionship were as good as it gets.
3. Yachting in Turks and Caicos Islands.
As a travel writer specializing in the Caribbean, Turks and Caicos is my favorite place in the world. A special island perk was spending an afternoon on a 77-foot rum runner.
To cap our afternoon at sea, the boat landed on a private island. We explored the island while our crew prepared fresh conch salad on the beach. On our way back home a smiling pair of dolphins cruised next to our boat as if to say, "Thanks for coming."


2. Thrilla of an Anguilla villa.
During a trip to Anguilla, my wife and I stayed in an 11-bedroom villa looking out on the Caribbean Sea. When I attended the Ultimate Travel Writer's Workshop, this was the kind of experience I fantasized about.
Each room at this 20,000-square-foot villa pointed to the turquoise water lapping at the villa's white sand beach. The villa's amenities included a chef, a masseuse, a gardener, and a driver.
1. St. Croix from 1,000-feet.
A bonus to my interviewing the owner of a St. Croix air charter service was the opportunity to fly in one of their Diamond DA40 airplanes. This was as close as I'd get to soaring like a bird.
A former Australian rock star piloted the four-seater airplane that seemed to float above the island's outer edge. Flying with only a thin layer of glass separating me from the Caribbean sky was the travel writing experience of a lifetime.
When the COVID-19 crisis subsides, I'm champing at the bit to make more travel writing memories. Here's hoping you also make the travel writing leap and exceed your own travel dreams.