In 2017 I decided to quit my job to travel the world by motorbike. I had a decent amount of savings, so money was not my prime concern, but I knew what I had was going to run out eventually. Then, in 2019, I heard about people funding their travels by producing simple videos. Here was the perfect solution to keep me on the road traveling and allow me to continue living my dream!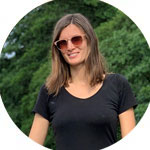 I always liked photography but the thought of putting video together had always seemed complicated and somewhat overwhelming. That's why the online Travel Videos for Profit course was a great fit—it was well structured and simple to follow, and I found I was able to digest the information easily.
When I finished the course, I decided to not only apply all that I had learned, but to really embrace it. I didn't see it as a hobby, but rather a lifestyle and potentially my new career. Thinking that way motivated me to go out and apply my new skills.
How Videography Helped Me Grow and Get Results
I started small by using my drone and smartphone to take short one-minute videos for my social media accounts, mainly Instagram. As soon as I started incorporating videos, my Instagram profile started growing rapidly.
It took me years to build up my first 5,000 followers, but suddenly my account grew to 15,000 in less than a year. Then it started getting noticed by big brands. The same happened to my blog. The visitor numbers grew substantially once I added videos to my posts. I was now delivering content on an entirely new level.
Becoming a Brand Ambassador
Last year, I approached a couple of brands to ask about sponsorship deals. I was thrilled when Triumph Motorcycle Germany offered me their brand-new Tiger 900 Rally Pro to use on my world travels—and after that I was suddenly on the radar of other brands that wanted to partner with me and even pay me to create short videos using their products.
During the pandemic I received roughly $10,000 in freebies, including expensive motorcycle gear, communication and vlogging equipment, and motorcycle accessories from big-name brands, in exchange for exposure on my social media platforms.
Dreaming Bigger
Thanks to the success I have had since taking the Travel Videos for Profit course, I have set more ambitious goals than ever before. I have set up my own YouTube channel and my goal is to be earning from my videos on the platform within a year. Although I only just launched it, the support and feedback has been incredible so far. I would have never had the confidence to get started on videography if it weren't for the Travel Videos for Profit course, which makes earning with video accessible to anyone. There really is no experience needed! I have gotten so much out of it already, but I feel it is only just the beginning of a bigger journey. I'm now focused on making my ultimate dream of monetizing my YouTube channel a reality, and I have the support of many global brands backing me to succeed.