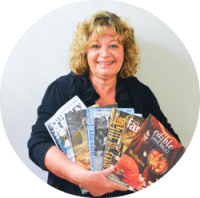 In 2016, fellow travel writer, Theresa St. John and I were headed to the Ultimate Travel Writer's Workshop in New Orleans as guest speakers.
We'd each been to a workshop in the past… used what Jen Stevens taught us to become travel writers… and when we met at a prior workshop, we became friends.
Both of us were excited about visiting New Orleans, which happens to be a gold mine for travel stories. Filled with fascinating history, famous drinks, fabulous food, and ghoulish graveyards, we both knew we'd have some great stories to tell.
We began planning months ahead, sharing our ideas for articles; then a light went off for both of us. Why not work together to make it easier? We called it our "combine, divide and conquer" trip. 
We made a list of sites we wanted to see in New Orleans and we pitched story ideas to editors we'd worked with in the past. Double the effort meant double the reward. We got a yes to almost everything we pitched.
With assignment letters in hand, Theresa contacted the tourism board and I contacted some museums, restaurants, and a place for us to stay (divide and conquer).
When all was said and done, our combined efforts gave us a multitude of free travel perks:
A multi-day hop-on/hop-off trolley tour with 14 "points of interest" stops
Garden District walking tour
Guided tour of New Orleans' most famous cemetery
World War II museum tour
Two nights in a vacation rental home
One night in a historic French Quarter hotel
Two breakfasts at French Quarter cafés
Two lunches in famous French Quarter restaurants
Two dinners in five-star restaurants including wine pairing
$1,700 in free travel perks we could both enjoy and only half the work arranging them. Brilliant!
Pooling our resources, Theresa and I were able to write 11 published stories from this singular trip. Most stories were planned ahead, but, with a few surprises thrown in during the visit, we ended up with more published articles than we'd anticipated.
These stories, many of them paid, appeared in an international vacation rental travels magazine, a history magazine, a military magazine, and wine and coffee publications. 
After our stories were sent to the CVB rep, she and the businesses she represented were thrilled with the number and quality of the articles we generated. As a result, we were cordially invited back again for a future trip.
Some helpful tips on how collaboration can work magic for a writer:
Make certain you've communicated who's going to cover what stories ahead of time for each of the publications you're writing for. Coming up with a different spin on a location helps expand your possibilities. The idea is to complement, not compete.
When you double the number of stories with assignment prior to a visit, this makes a CVB rep or business even more motivated to working with you.
Two heads are better than one in finding fascinating story ideas and interesting places to visit. And if one or both of you have been to the location before, it's even more helpful to the other. Besides, it's more fun to explore and share adventures together than alone. 
An unknown author said, "Collaboration divides the task and multiplies success." It certainly did in our fun and exciting visit to the Big Easy!