One of the top reasons to become a travel writer is perks such as hosted travel.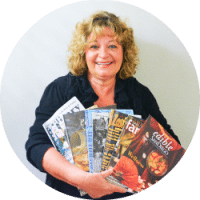 Thanks to my relationships with tourism board representatives, I have been invited on numerous press trips over my 6.5 years as a travel writer. This includes travel within the continental U.S. as well as to Hawaii, the Caribbean, Mexico, and Europe. These invitations were both group and individual trips hosted by the destination. Most were all-inclusive and covered airfare.
How does the process work? Put simply, tourism boards receive funds to promote their destination. One of the best promoters of that destination just happens to be you, the travel writer. With social media and our stories, we are a very effective method of marketing for the destination—and they know it!
As I've learned throughout the years, the value of connecting with tourism boards and their representatives goes far beyond a destination—it opens the door to a whole host of other benefits.
Press Trips
The holy grail for the travel writer is landing the all-inclusive press trip. These are personal invitations by the tourism board to visit the destination "on the house." These can be on an individual basis or as part of a group. The tourism board wants to attract visitors to their locale, and the travel writer is a big part of the promotion by being the "boots on the ground" and writing and sharing the experience. It's a win-win!
Story Ideas
Early on in my travel writing, I discovered a secret benefit of working with tourism boards. I asked to be on the mailing list of my local San Diego tourism board. These mailings include all the latest information about San Diego—new hotels, restaurants, and upcoming events. The information provides a wealth of new story ideas. I also reach out to other destinations I'm interested in visiting and enjoy the same benefit.
Invitations to Local Events
After joining the email list, reps for individual venues have reached out to me with invitations to local events. Among the many offerings were a luxury five-star hotel opening celebration, a cocktail reception at a high-end oceanside restaurant, a sunset sail aboard a catamaran, and San Diego lunches, dinners, and receptions by visiting tourism boards.
Friendships Forged
Another top benefit of working with tourism boards is the lasting relationships with the reps. Many reps accompany the writer on some or all aspects of the press trip. Spending three or four days together allows us to get to know one another. In many cases, we've become good friends. This is valuable for future trip invites, or in the case of one of my reps who accompanied our small media group to the Riviera Maya, a personal invitation to the Turks and Caicos.
It's not unusual for reps to change jobs or destinations. When this happens, the relationship carries over to new destinations and opportunities.
Professional Referrals
The tourism board rep community is tight knit. They know one another and will gladly provide referrals to other destination reps if they enjoyed working with you and like your product.
This is the gift that keeps on giving!If you deliver what you promise in a story and act professional and considerate on your trip, then your reputation will grow. Your name will go to the top of the list for future opportunities.
This has happened to me on more occasions than I can count. For example, I was invited on a coastal California press trip and after that hosted event, I was contacted by two other California beach town reps asking me to visit their destinations in exchange for my stories. Those trips were equally amazing.
Most of us became travel writers because of our love of travel. Imagine traveling even more because tourism boards want to lure us to their destinations. Mastering this process is like finding a treasure map.
An unknown author once said, "Once a year, go someplace you've never been before." Working together with tourism board reps can help fulfill that dream. Not just once, but time and time again.