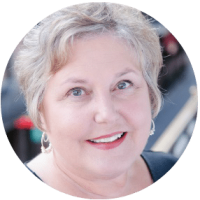 I live in Hartselle, Alabama, population 14,471. It's just off the interstate that runs the length of Alabama. But except for the annual Depot Days Festival in September, and the fact that our girls' high school softball team recently won the state championship, few have ever heard of it.
In many senses of the word, I am isolated. But thanks to the Travel Writer's Café, that isolation doesn't affect my professional progress at all. I have a community where I can go for support or for answers to my questions.
There are lots of helpful writers and editors in the Café… but, for me, three faces immediately spring into my mind, and are part of the reason why I recommend the Café to any new writer on their journey to travel writing success:
Noreen sets a blazing pace
I first met Noreen Kompanik, the organizer and moderator of the Café, when I attended the Ultimate Travel Writer's Workshop in Denver in 2015. She was part of the Success Panel, and I was immediately drawn to her story and her path to achieving so many bylines in one short year.
Noreen's amazing transformation from nurse to Super Star travel writer inspired me to look at her as something of a Pied Piper. Her encouragement, through email messages and phone calls, helped to put ME on that Success Panel the following year.
Noreen sets a very strong example for all the members of the Café. She responds quickly and wisely to our questions, she nudges us, steers us in positive directions, and is our biggest cheerleader. When we get stuck, whine or have pity parties, she gets us back on track. She points us to examples of great writing and photography and provides a forum for showcasing our successes.
I have to say that Noreen reminds me of some of the best college professors I had in my younger years—the ones who didn't just teach from a book, but taught by example and from real life experience.
Kathy patiently mentors and expands my horizons
Kathy Stafford, editor of MilesGeek.com, is a consummate traveler and writer who lives part of the year in Portugal and the rest in the Pacific Northwest.
I appreciated the fact that Kathy accepted several of my submissions to MilesGeek early on in my travel-writing journey. She was so very patient to work with me, especially when it came to submitting photos with my articles. Then we bonded further when we had opportunities to meet in person during our travels.
Since Kathy keeps her eyes and ears alert to any writing opportunities involving Alabama, she helped me get an assignment as a member of the press covering the World Food Championships in Orange Beach, AL for two years in a row… and to later start covering the Alabama sites on the U.S. Civil Rights Trail for MilesGeek.
I am ALWAYS interested in what Kathy has to say. She continually steers me forward in my career. Members of the Café can be certain of getting helpful feedback from Kathy.
Betsi is a networking guru
Betsi Hill was at the Ultimate Travel Writer's Workshop in New Orleans when I was a speaker. She had already done a lot of writing, but that event lit a fire under her, and she's had a meteoric rise in the travel-writing world since then. Her social media numbers are soaring, she's constantly invited on fabulous press trips, and she's now the editor of a newly-launched luxury living print magazine called Links and Libations.
Betsi has been extremely helpful in terms of guiding me toward useful and meaningful contacts with public relations and tourism representatives. About a year and a half ago, Betsi suggested that I apply to attend the TravelSouth convention. I was too late to get in that year, but the contact Betsi shared has already led to two wonderful press trips and a one-day media event with three more in the works. That single contact led to dozens of bylines.
Betsi even shared some organizing tips with me when I lamented about the amount of material we gather on press trips. Her ideas are already making a huge difference as I organize my study.
Betsi never tries to step over anyone to get ahead. Instead, she wants to bring a big group up the success ladder along with her. As a member of the Café, she is quick to respond to questions from fellow members and uses her rapidly-expanding base of knowledge to all of our advantage.
The café is a goldmine resource
Noreen, Kathy, Betsi and I all live very far apart. But with the common bond of travel writing—and the forum and feedback provided by the Travel Writer's Café—I can keep up with the work these ladies are doing and share tips, questions, and successes. And I make new connections in the Café all the time, too.
From my small corner of the world, I get mentorship and encouragement, friendships with fellow travel writers, and instructions from people who have been in my shoes before… all of which really helps me to achieve my goals of writing and exploring the U.S. and the world. The Travel Writer's Café is a membership I recommend as highly beneficial and worth every penny.