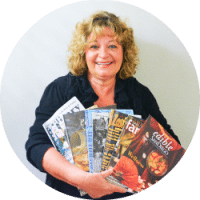 Comic strip artist Addison "Mort" Walker once said, "It's not true that nice guys finish last. Nice guys are winners before the game even starts." 
This sentiment couldn't be truer in the life of a travel writer, and here's why…
One of the best parts of a travel writer's life is the perks that come along with the job. 
But, in order to get those coveted complimentary luxury stays, free dinners, sunset cruises, or sightseeing tours, there's a little something extra we do that reaps incredible benefits. And it's simply this: being nice. And being nice really pays off.
Like any new writer, when I launched my travel-writing career three years ago, I had to figure out just how to qualify for press trips. I followed the Great Escape Publishing model and started racking up the bylines.
Once I established credibility with several published articles, I was able to contact individual businesses to set up my own stays, dinners, or wine tastings in exchange for a story.
Next, I applied for group trips and also set up my own individual press trips through public relations specialists and convention and visitor's bureau (CVB) reps. 
Before long, I was getting more invitations to visit places than I had time for on my calendar. And feedback I received from these reps convinced me that I was doing something right other than just delivering good stories. 
On a press trip to a Southern California coastal beach town, a CVB rep worked with me to set up all the visits I needed to write stories on the area, such as a winery tour, surf museum, farm-to-table dining, whale-watching, and more.
When I returned home, I sent her an email thanking her for setting up the trip. I kept her in the loop each time a story published so she knew I was delivering on my promise. 
About six months after that trip, I received an email from a Northern California rep who just happened to know the other rep, and she invited me for a week-long press trip to the Mount Shasta region that included full airfare, a rental car, and a generous expense account. 
Her comment to me was: "Shae said it was an absolute pleasure working with you and that you wrote some great articles. We'd love to host you here."
After returning from that press trip to Shasta, I was invited on two additional California press trips—all expenses paid, once again, in exchange for published articles. 
Delivering an excellent product is crucial for travel-writing success, of course, as is meeting publication deadlines. But being considerate of the editors who assign us these stories carries its own unique set of dividends, too, in the way of assignment letters—another perk of being nice.
An assignment letter is something you can ask for once an editor has gotten to know you and she knows you deliver great stories.
Letters of assignment mean an editor is backing you.  She agrees to publish your story when you return home and these assignments are your golden ticket to press trips. Why? Because they're a guarantee that you're going to get something published and press trip reps love that.  Some even require it.
This technique of building credibility, delivering on my promises, getting published, and being nice has worked wonders for me. It's a gift that just keeps on giving.