If you're not already following us on iTunes, you should know we release a free podcast every Sunday, here…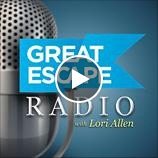 You can subscribe on iTunes here. If you plan to listen on your phone, make sure you have a podcasts app to subscribe. Or if you plan to listen on a computer, hit "View in iTunes" at that link and then subscribe. 
One of our most-listened-to episodes is this one with John Bechtel on starting travel writing from Nowheresville: 

This podcast on finding success is popular, too…
Check us out and if you like it, please leave a positive review on iTunes or our website.  It's the only way I know you like them enough for us to keep recording.