If you're anything like me, you grew up hearing your mom and dad say, "Mind your Ps and Qs, young lady." Minding my manners, being on my best behavior, and watching my language kept me out of trouble, for sure.
As a freelance travel writer and photographer, my Ps and Qs have come in handy as well. Below are a few I've paid attention to—but believe me, there's a long list I draw from every day on my journey.
Professionalism
The first thing people see is you. By acting professionally you show you're respectful of others and easy to work with.
I remember my first media trip. One travel writer showed up late to every outing. Because of her tardiness, the group was late to arrive at scheduled destinations. Both our hostess and tour guides were frustrated, while other travel writers commented on her entitled attitude, which made the trip awkward at times.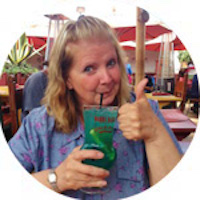 PR folks spend a lot of time and money hosting travel writers, photographers, and videographers. That three-day trip would have cost over $1,500 if I'd paid for it independently. By being appreciative, staying humble, and over-delivering on my promise to write stories promoting the area, an invite to a second resort came shortly afterward.
Querying
I cannot stress enough how crucial it is to master the art of a query letter. There are publications all over the world ready to accept and commission great stories if you know how to reach out. I've written for blogs, newspapers, local and regional magazines, online publications, in-flight magazines, and more.
Fleshing out a story from a general idea takes getting used to for some writers. Just telling an editor you'd like to write about Paris, France, for instance, will most likely not be successful. But, by letting him or her know you're interested in writing a story about, say, the Memorial de la Shoah (a Holocaust museum in the heart of the city), you're more likely to land an assignment or two.
Personability
Personability is one of the most important traits a travel writer can have. You'll approach so many people, from locals to chefs, hoteliers, and more. Having an open, easy attitude encourages them to interact and work with you.
I remember how nervous I was walking into my local Chamber of Commerce, intent on introducing myself in 2013 after returning from The Ultimate Travel Writing Workshop in Boston. Regardless, I took a deep breath, opened the door with a warm smile, and walked into my future as a local writer in my city.
Now I write all sorts of articles, including travel, restaurant reviews, personal profiles, architectural pieces, holiday stories, and more. I visit exciting places, eat at great restaurants, meet interesting characters, and get paid nicely for my work.
Quality
Turning in top-notch work is key to becoming a successful travel writer. If I'm not proud of the work I put my name to, why would an editor want to publish it? Why would a visitors bureau share it on their social media?
My work should always be grammatically correct. Before turning it into a publication, I check and re-check the facts, reread the submission guidelines—making sure I pay attention to every detail—and always meet or beat the proposed deadline.
I also learned early on that having appropriate photos to accompany my articles makes editors happy. It means there's less work for them when I've handed in the whole package. It also makes it more likely they'll assign another story.
Passion
Find stories that pique your interest. Write about people, places, and other things you're passionate about. There's a publication out there for everything,I promise. Infuse your words with emotion. Doing this will draw a reader into the journey, and that's what travel writing is all about. We want to bring them along with us; and if we do the job right, they'll want to make the trip.