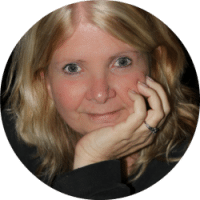 I always smile when people ask how long I've been interested in ghosts. The question brings me right back to my childhood. I was five, maybe six, and had asked for one special present that Christmas.
My parents didn't have a lot of money, but they always gathered lengthy wish lists from five hopeful daughters the day after Thanksgiving. Come Christmas morning, at least one of our requests would be wrapped in festive paper, tied with pretty ribbon, and placed under a Charlie Brown tree nailed to the floor in the corner of our living room.
That year I ripped open the paper, held up my present, and couldn't stop screeching. I was ecstatic!
I grabbed my gift, hugged my parents and ran downstairs to the cellar, where I could play with it. It was a board game called "Ghost." It glowed in the dark. I was excited to play the game with friends, my sisters, even by myself every day after school.
Here's the thing, though.
When I attended The Ultimate Travel Writer's Workshop in Boston, 2013, they talked about travel writing niches, and how we should write about things that interested us as unique individuals.
Even though I was interested in hauntings, I never once imagined I'd be able to tap into my love for ghosts, never mind find markets interested in publishing my stories.
But, that's exactly what happened.
During that three-day intensive workshop, we learned about researching publications for our stories and the importance of networking. Instructors spoke about how important both would be in our travel-writing career.
In my case, this proved to be true no matter what genre I was writing about at any given time.
And once I had several articles published, my name began to spread in writing circles. A PR firm representing Haunted History Trail of New York State contacted me. They'd read a few of my bylines. First they emailed, then they called, asking if I'd be interested in visiting a few of their ghostly attractions.
They cover 65 properties, in over 30 different counties in the state of New York. That spans more than 400 miles of potential stories!
The PR rep explained how my personalized media trips would be set up. Each would include haunted hotels, restaurants, wineries, museums, theaters, etc. They'd roll out the red carpet to host me in exchange for stories about my visit.
It didn't take me long to accept their offer.
Just this year alone, I've been able to visit haunted museums and restaurants. I've enjoyed overnight stays in hotels and charming B&Bs. I've taken part in ghost hunts in underground settings, historic buildings, amusement parks after dark, and abandoned structures.
I've met with paranormal teams and psychics. Can you imagine my reaction when a retired state trooper shook my hand at one haunted location, asking if he could talk to me about the murder he'd investigated there?
Can you say flabbergasted?
I couldn't ask for a better lifestyle than being a travel writer. I'm able to indulge in things that interest me. Whether it's food, wine, history, nature, profile pieces, local or international travel… or, of course, ghosts… I'm able to explore it all, then write about my impressions.
I'm hosted all over the country. Most times, I'm allowed to bring a friend along, which adds to the fun. And I get paid for my stories, too!
Lucky girl? Yes, that would be me.
Travel Writing Resources
How To Become A Travel Writer – The Easy Way
Easy Steps To Landing Your First Byline As A Travel Writer
Marketing For Travel Writers: 5 Ways To Get Started
22 Travel Story Ideas To Get You Published
10 Reasons To Become A Travel Writer