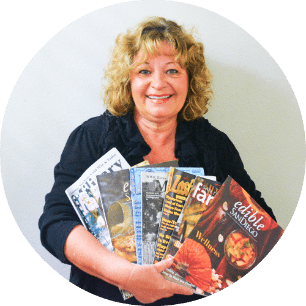 My first cover story. I'll never forget that day!
I placed the magazine on an end table and each time I walked past it, I couldn't believe it was my article and photo on the cover. Was this really happening?
Before I became a travel writer three and a half years ago, I'd never written a travel story in my life. But, the Ultimate Travel Writer's Workshop in 2014 was a game changer for me. After 30 plus years of nursing, I found my retirement dream job.
After the workshop, I followed the program and never looked back. Though I've had over 300 published stories since then, the ones that mean the most to me are my cover stories.
Just the other day when an aspiring travel writer asked how I'd managed to land seven cover stories as a relatively new travel writer, it got me thinking.
Landing a cover story doesn't happen by chance. There are ways to make it happen. And the great part here? It can happen to anyone if you play your cards right.

Here's how…
1. Write a good story.
Our task as writers is to take readers with us on our journey. We do this by painting a picture with our words.
By describing what we saw, heard, smelled, touched and felt, the reader intimately connects with the story. We establish a sense of place and set the mood. Editors know what their subscribers desire, and, if they love the story, so will their readers.
My first cover was an article for a military history magazine about Fort Rosecrans, the Arlington Cemetery of the West. The editor said, "What impressed me most about your story was how you described your experience. I was there. I felt it. I had chills."
2. Fit the story to the publication.
It's imperative that as writers we understand the "voice" of the publication we're writing for. By becoming extremely familiar with the magazine, the editor knows we understand its theme and its readership.
In an article I wrote for a lost treasure magazine, my story focused on a gambling ship that went down with a treasure trove in a New Year's storm on the coast of Southern California. A winter El Nino had recently unearthed parts of the ship, bringing the boat's story to life once more. The editor called my story a "perfect fit," and it landed on the cover.
3. Time the story.
Editors love when writers submit stories that target seasonal times of the year. For example, a destination piece I'd written on the magnificent Riviera Maya for a vacation rental travel magazine was published in the winter edition. That's when readers are hankering for warm, sunny destinations. Timing isn't just important; it can mean everything when landing a feature.
4. Include quality photos.
I don't consider myself a professional photographer. But, I've learned enough in the years I've been writing that the ability to take high-resolution quality photos is important for travel-writing success.
I was completely surprised when a San Francisco story was selected as a cover for a vacation travel magazine. I know the publication tends to feature more international destinations, so, when my photo of the Golden Gate Bridge was on the magazine cover, I was excited, but also intrigued.
The photo editor said, "When I saw your photo of the bridge, fog rolling in, and a sailboat approaching at just the right time, I knew you'd captured the moment to perfection."
Because our photos also tell the story, it's imperative to take those great shots.
Editor and publisher Ralph Marston said, "Excellence is not a skill. It is an attitude."
Well, it's certainly worked for me.