Strategic planner and speaker Carece Slaughter once said, "We start by setting the course, we succeed by staying the course."
Whether you're a new writer or one with more experience, we all share one thing in common. We're all navigating through some rough waters these days. But just like a good sailor, we need to pay attention to the winds and adjust the sails when need be to remain on course.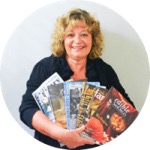 Even during this pandemic, I managed to get 10 articles published last month. That seems surprising to some of my colleagues who wondered how I managed that. Well, I can assure you it wasn't luck. It was because I found ways to shift tack in order to get my stories sold.
Here are five ways that I made this happen.
1. Assess the environment.
Cruise ship stories are out. So are many stories consisting of international travel. At least for most of the publications I write for.
But by following shifting trends, I was able to make relevant pitches that caught the eye of my editors. These included local stories, pieces about spectacular movie locations around the world that fuel our love for travel, and wine destinations we can't wait to visit. Editors appreciate writers who have a pulse on current and upcoming trends.
2. Be persistent (but not pushy).
I truly believed a pitch I'd sent to an editor was a perfect match to the publication. I'd already done my research and to my knowledge, no story had been published on the subject material. In my earlier years of writing, I wasn't so much into the follow-up. I figured if the editor was interested in my story, he or she would bite. But, guess what? I've come to change that notion.
A few weeks later, I sent a follow-up email to the editor along with my original pitch. I wanted her to know that before reaching out to other publications, I'd double-check to make sure she'd received my original email. Things get lost in the shuffle and sure enough, this one did. And thus, my article about a magical, mystical place in Taos, New Mexico was eventually published.
3. Perfect your pitch.
Many publications have had to tighten their budgets and are feeling the pinch due to decreased advertising. But that doesn't mean writers aren't getting published. Especially if they're submitting pitches and stories relevant to the changing times.
Savvy writers take the time to look over a publication's writer guidelines and get to know the voice of the periodical along with their target audience. Some publications have even changed their guidelines and are actually listing the story angles they're currently seeking. This may include virtual travel, places we dream of visiting again, safest places to travel, coping mechanisms during trying times, or even pandemic hero stories.
It's vitally important to make your pitches clear and concise and include a line articulating why the story would fit the publication. You want to sell them on your article idea.
4. Cement relationships with editors.
Relationships matter. Trust is a huge factor between writers and editors. And never more so than in these challenging times. Breaking into a publication may seem a little daunting with the first pitch or story, but if you submit a quality product on time or even a bit early, that goes a long way. Editors give extra points for writers who are flexible and easy to work with.
Establishing that relationship with an editor is an open door to future opportunities. And often times, no formal pitch is even required once the editor gets to know you and your work.
5. Share published stories on social media.
I have over 5,000 followers on Twitter, one place where I share all my published stories. I also have a loyal and engaged following on other social networking sites.
Sharing my stories is really important to the publications as it encourages readers to log on to the website, read the story, and other pieces that may be of interest. Readership is a huge factor in their advertising campaigns.
A story I'd written for Travel Pulse actually made the "top read" list for a week. Just by me engaging my followers, my story went from fifth to third place. Needless to say, my editor was very pleased.
The bottom line is that travel writers who truly love what they do will always find a home for their stories. It may take a bit more patience, persistence and planning, but trust me, it can be done.