As travel writers, we love and appreciate the perks that come with the job. But with the COVID-19 pandemic, we know how trying these times have been for our businesses. And it's been equally challenging for the travel writer hoping to land the "on the house" perks we're accustomed to in exchange for our published stories.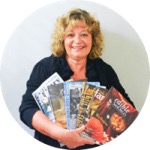 Though these certainly are not the normal times we've been used to in the past, it doesn't mean perks aren't out there. Savvy travel writers just have to know how to navigate through the many changes, while remaining compassionate and sensitive to venues trying their very best to stay in the game.
Here are some ways you can set yourself up to receive perks that are still available to writers in exchange for their published articles.
1. Get on tourism board lists.
Writers can do an internet search on their local tourism board or a place they're interested in, i.e. "San Diego Tourism Board" or "Visit San Diego." Ask to be included on their email list. Tourism boards send out press releases on the latest happenings in the area. Many also work with PR agencies representing local venues.
I received a complimentary two-night stay celebrating the grand opening of a new California coastal hotel just last month and recently an invitation to schedule a 2021 visit to a Colorado mountain lodge retreat.
It's important to keep in mind that while marketing dollars may now be tight, venues, especially new ones, are seeking coverage. Getting featured in an article is a great form of free advertising for a venue. As travel writers, we're able to give them that.
2. Tap into hotel upgrades.
As a local writer for a San Diego magazine, I've covered a myriad of boutique places to stay in the area. While in the past, I would reach out to each venue requesting a complimentary stay, times are a bit different, and hotels have suffered tremendous losses during the COVID-19 pandemic.
The good news, however, is that I did receive some complimentary stays, and other hotels offered media rates—or I found deep discounts on sites like Travelocity. Every one of these places gladly upgraded me to suites and/or oceanfront rooms that would have cost much more out-of-pocket.
It's important to communicate to these businesses that you are a travel writer. They understand the value we bring.
3. Tap into foodie perks.
Just like hotels, COVID-19 has had a huge financial impact on restaurants. However, these dining establishments are still looking for coverage even if they're not yet filling seats to capacity.
I reached out to an oceanfront restaurant recently to let them know I would be covering them in a destination piece about places to dine and another special feature for a food and wine magazine. I met with both the chef and manager who insisted on covering mine and my husband's meals in exchange for those published pieces. As a matter of fact, they were elated to have the coverage.
In other recent restaurant visits, I've had my meal comped or free appetizers and desserts, and champagne on the house. All because I let these restaurants know I am a travel writer on assignment.
4. Share photos and stories on social media.
When visiting a venue, I always share my photos on social media and tag the hotel, restaurant, or museum. And when an article publishes, I not only share that story on social media outlets, I also send a link to the venue who hosted me or provided a discounted rate.
Remember that the goodwill marketing you demonstrate today will pay big dividends down the road when we return to some semblance of normalcy.
5. Practice kindness and build relationships.
I practice the age-old adage that it's not what you ask, it's how you ask it. Kindness and understanding go a long way when reaching out to businesses or contacting tourism boards.
The expectation that everyone out there is going to roll out the red carpet for writers right now is somewhat of a reach. That being said, I'm finding many businesses so eager for coverage that they're more than willing to provide writers what they can within their limitations.
I've had free wine tastings and left wineries with complimentary bottles of wine. Museums have provided free passes and touring companies free harbor excursions in exchange for articles. But the way I ask these days is a bit different. I let venues know I have an assignment, but I also let them know I understand the difficult times we're in. I explain that anything they can do to make my experience better is more than appreciated.
Mark Twain once said, "Kindness is a language which the deaf can hear and the blind can see." In the travel industry, it is no different.
Don't be afraid to market yourself as a travel writer. Just remember kindness is never wasted— especially during these troubling and turbulent times.