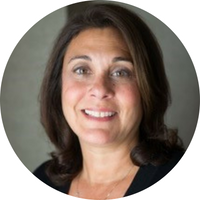 As a language arts teacher, I loved helping my students craft their writing. During one mini-lesson, I was teaching using a journal entry from a trip I had taken the previous year. The lesson was meant to show my students how to write using sensory language. Teachers can use their writing as model texts, and my demonstration went well. My fourth graders were excited to try and "show," rather than tell, the reader in their writing.
I went home that day, and I began to reread old journal entries from past trips to find more examples for lessons. The images of those trips and the feeling of being back in those places reminded me how much I adored traveling and exploring. One of the perks of being a teacher was having a block of time over the summer to travel.
I remember that day, because after revisiting my journals, I began feeling restless. It was spring, and the school year was winding down. I was feeling exhausted by the demands of the classroom. I began to yearn for the freedom to travel at will and not around the constraints of my job.
I came across Great Escape Publishing as I was scrolling through travel articles, dreaming of my next adventure. I visited the website and read about the Ultimate Travel Writer's Workshop that was enrolling for September in Washington, DC. But I made excuses and decided I didn't have time. Something kept pulling me back to revisit the stories about others who had made the leap to change their lives. The more I researched and visited the website, the more I began to formulate a plan for my future. I decided to retire and signed up for a seat at the September 2017 workshop.
Within weeks, I put the steps I learned from the conference to the test. I landed some perks from the tourism board in Beaufort, South Carolina. I was offered free admission to museums and tours of the charming southern town. I pitched the subsequent article to an online blog, and it was accepted. I was on my way a few short weeks after the workshop.
Since 2017, I've had 40 articles published in several online publications and have been offered free hotel stays. Getting letters of assignment has allowed me to make the connections needed for tours and interviews. I have created a blog, Facebook page, and Instagram account, thanks to continued learning opportunities provided by Great Escape Publishing. I enjoy being a member of the Travel Writer's Café. The support of this group is so valuable and allows me to share advice, receive advice, cheer on fellow members, and get pats on the back, which help propel me forward.
I am still learning and growing. I have received rejections, too, of course, but have also landed a "yes" response over and over again. The thrill never gets old, and I genuinely love my job.