In 2013, when I attended the Ultimate Travel Writer's Workshop in Miami, instructors from GEP spoke a lot about having a niche—something to specialize in—as a travel writer.
They also handed us a workbook to take home. In it, there was a page that encouraged us to list everything we were interested in, no matter what it might be.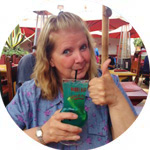 The exercise was a little intimidating for me; my interests varied, and there were so many of them. How on earth was I going to narrow them down?
Nevertheless, I did what they suggested and learned so much in the process.
I could have several niches—as long as I did a great job covering them. PR people loved that I was interested in more than one thing. Planning media trips around my interests led to plenty of freebies, published stories, and experiences that I might not have had otherwise. Doors opened, more invitations arrived in either emails or phone calls. Having varied interests made me more appealing to convention and visitor bureaus (CVBs) and destination marketing organizations (DMOs)—it meant they could get more for their buck when hosting me And I learned to love more things—stuff I'd never been interested in before.
Let me explain a little more.
In high school, I had no interest in history. I flunked those classes in 9th and 10th grade, much to my parent's chagrin.
Now that I am older, history is fascinating to me! I love to write about World War II, the Underground Railroad, especially profile pieces covering the heroes, victims, and timelines of both. I have submitted articles highlighting historical gardens worldwide, ghost stories, food, and wine pieces to various publications.
But, I never thought I'd be interested in the Erie Canal. Honestly, I had no idea what it was, nor the importance of this 300-plus mile canal system that ran from the Hudson River in Albany to Lake Erie in Buffalo.
Yet, when a nearby visitors bureau reached out and invited me to spend a long weekend exploring the canal and its rich history, I jumped at the opportunity.
I spent one night at the historic Oneida Community Mansion House with a friend. We enjoyed the John Humphrey Noyes Suite—a set of rooms our PR folks had never been in before that day. Talk about feeling spoiled! And they footed the bill.
I learned a good deal about the man behind this controversial Utopian community and, as a result, wrote three separate articles from that visit alone.
The second night, we were treated to a room at the historic Colgate Inn. We enjoyed dinner and wandered around the downtown area before heading to bed, where we slept like babies.
The next day, we visited a zoo, the Erie Canal Museum, then took part in a 22-mile scavenger hunt filled with hints about the men who built the canal. We discovered several clues while riding along the towpath, imagining what it must have been like to pull the barges by mule as a young Irish child—often abandoned at the end of the trip to fend for themselves through the harsh winter ahead.
At the end of our journey, we joined a neighborhood BBQ and music festival, held over that weekend to raise money for a good cause, before driving back to Saratoga.
Here's a breakdown of my weekend:
Oneida Community Mansion House – $280
Dinner – $125
Breakfast – $20
Lunch – $50
Colgate Inn – $149
Dinner – $112
Breakfast – $35
Eerie Canal Museum – $20
Erie Canal Treasure Hunt – Bikes supplied
The bill would've cost me $791 if I'd gone on my own. Instead, I had this fantastic experience, discovered I loved learning about the Erie Canal, and didn't pay for anything other than gas and tolls.
Here are the articles I wrote after my visit, with more in the pipeline:
Three stories on the Oneida Community Mansion House – $400 total
Colgate Inn review – $50
Erie Canal Museum – $50
Erie Canal treasure hunt – $50
Total paid by local and regional magazines to date – $550.
Since then, in love with the rich history and people of the Erie Canal days, I've been invited back to that area several times. Editors are happy with my stories and photos depicting the places I visit. Sometimes I travel alone, other times I bring a friend.
I write story after story from different angles. Sometimes, it's a round-up. Other times a review. Yet other times, it's an easy weekend getaway piece that local readers have come to enjoy.
I make sure to space them out, too. Doing this keeps the specific area alive. It also keeps my name in front of people I might want to approach for sponsorship down the road.
For me, having many niches has worked out well, beyond my wildest dreams. For others, having a more specific, laser-focused niche has served them well. It depends on each writer to decide what sets them on fire. No matter where your passion lies, an incredible payday accompanies it. So, make that list—short or long—then run with it.
I can't wait to see where it leads you.