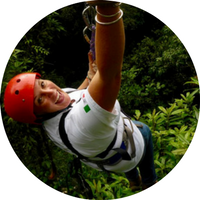 In the nearly two years since attending the 2017 Ultimate Travel Writer's Workshop, I've become more determined than ever to thrive, travel, and experience life to a fuller degree—all while having a better work/life balance. 
Once I started writing, I realized how much I loved it. So, now, I'm following my dream, and I'm healthier, more motivated, and my life is more balanced. I eat better, exercise more, feel great and am more organized. In short, I'm happy.
Travel writing fills every aspect of my life, getting me "out there" to experience my surroundings at a deeper level… meeting new and interesting people… and discovering hidden gems locals don't even know about. It's reawakened many a passion for play and exploration I thought I lost since childhood.
Recently while looking for story ideas, I met a group of local ladies in an ocean swimming club—the kind of group you only know about through word of mouth. Not only has meeting these "Little Mermaids" gotten me out in the glorious Caribbean waters, but it has also led me to a nice 10-pound loss just this year. It's even helped reignite my love of cooking and a desire for living an overall healthier lifestyle.
Just a handful of years ago, I imagined I would still be in a safe little bubble with a 9-5 job, a house, a dog, and pottering in my garden on the weekends. Now, I'm living on the other side of the world and having experiences daily that most of my friends are envious of.
Looking back, becoming a travel writer was the best change I ever made.
Of course, it can be daunting putting yourself "out there" as a newbie writer, so here are 3 little things you can do today to help boost your confidence and get started:

1. Start small at home. Take your dog to the park and say hello to the person next to you, or in the grocery line, or at a café or bookstore. Get up the courage to start a conversation and see where it leads.
2. Smile. It sounds silly, but complete strangers will open up and talk to you if you smile and appear open and friendly.
3. Meet locals. This can be anyone you are interested in, from your favorite waiter or barista, to the local vet or yoga teacher. Ask them if you can do a profile piece. That way you can hide behind pre-written questions, so you don't get stuck, tongue tied or lose confidence.
Simple things like these mean you make new friends, and friends of friends and find out all sorts of interesting things. That is how I met the Little Mermaids.
All it takes is a leap of faith. A decision to try. Get out there, smile, and live your dream.