Every freelance writer agrees that seeing their name in print for the first time is exhilarating. So are the perks that come along with the job, as well as receiving that first invitation to an all-inclusive press trip.
But what is it that actually keeps writers happy, engaged, and motivated day after day, month after month, and year after year? More than even the bylines and the perks, it's the ways that travel writing has enriched our lives and the unexpected joys and delights around every bend.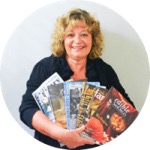 Here are five ways that travel writing will enrich your life and lead you to joys that only travel writers will know.
1. Surprising discoveries.
One of the most amazing aspects of travel writing is the opportunity to visit destinations that may have not even be on our travel radar. The Dominican Republic was one of those for me. Despite some of the negative publicity this Caribbean island has received, it was one of my favorite trips in 2019. Why? Because I was surprised how safe I felt, how much I loved exploring the culture and fascinating history of the island, and how incredibly beautiful this piece of Hispaniola really is. I totally fell in love.
But it wasn't just the Dominican Republic that provided surprises. It was small towns within the U.S., villages along the magnificent fjords of Norway, and even hidden treasures in bigger cities like San Francisco. Places I never would have discovered without travel writing.
2. The people you meet.
Perhaps one of the biggest blessings I've been afforded as a travel writer is meeting many amazing people along my journey. If I hadn't been on that plane to Hawaii's Big Island, I'd have never met the 70-year-old with pancreatic cancer who was still competing in the Iron Man Triathlon. Or the tour leader who shared how he overcame drug addiction and homelessness to become the tour company's most requested guide.
These joyous and inspirational stories have all been part of opening my eyes to the bountiful goodness and endless possibilities of mankind. Even the occasional sad stories have their valuable life lessons.
3. Foodie experiences.
We can thank the late Anthony Bourdain for having one of the biggest impacts on the foodie tourism industry. Bourdain inherently understood that food is an integral part of culture. Before him, no one was traveling for food. Now it seems everyone is into "foodie travel."
When we travel, we eat, right? But imagine experiences where you get to really immerse yourself in a culture through its food. Bourdain understood this and shared this knowledge with us.
I experienced this making chocolate in Santa Domingo. I baked bread at Taos Pueblo, New Mexico with members of the Native American community. I've made fortune cookies in Chinatown, handmade pasta in Europe, and had so many other experiences while embracing my hosts and their cultures in ways I'd never dreamed.
4. Friends made along the way.
Even in 34 years as a nurse, I never had the kind of relationships I've forged as a travel writer.
There's something about the love of travel that unites people. And the travel writing community of today is much more open and sharing than in years past. We see it as a "pay it forward" and "open arms" proposition as we support one another and pass on helpful information.
Add in those amazing destination representatives who roll out the red carpet to freelance writers on press trips and gladly refer top writers to other destination colleagues. They even invite us back on trips to other locales they support.
This happened to me in 2018 after a trip to Mexico's Riviera Maya. In 2019, when the rep was organizing a trip to the Caribbean, I received a special invitation to accompany her and a small group of writers to the Turks and Caicos.
And the best part of it all is that we've become such good friends. A gift that keeps on giving.
5. Memories to last a lifetime.
One of the reasons I became a travel writer is of no surprise…to travel, and travel more. One of my favorite quotes by an unknown author is, "Fill your life with experiences, not things. Have stories to tell, not stuff to show."
If you're like me, I'd much rather leave a destination with a camera full of photos than a suitcase full of souvenirs. The world is an amazingly beautiful place, and travel writing also allows us more opportunities to travel without these trips having to all be self-funded.
We not only get to come home and write about our travels, but, like our photos, those stories become our own personal travel diary that keeps the memories alive.
What do I love most about being a travel writer? All of it!