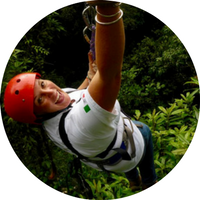 Being a free spirit, sometimes I felt trapped in the Navy. I had always dreamed of becoming a travel writer like those lucky people you read about that live in exotic locations on Caribbean islands, near golden temples in Asia or in the Tuscan countryside. You know the ones—they worked from Parisian cafés nibbling croissants… or laptop in lap, reclining on a beach chair listening to the waves along the shore.
Now, that dream is my reality. I am that person. I left the Navy to become a travel writer.
Travel writing reawakened a zest for life I hadn't felt in years and thought lost.
It didn't happen overnight, but with a little grit, and taking every opportunity that came along, I now write full time and can sit at a beach café to work if I choose, because I now live on that Caribbean island I'd dreamt of.
I've said yes to every opportunity that has come my way, and it's resulted in lots of personal wins. Here are a few examples:
Win #1: Travel writing helped me land a travel book series
I befriended a local writer which landed me a small rewrite job.
It didn't pay a lot, but I jumped at it. Being happy with my work, they asked me to co-write the first book and then write two more solo, blossoming into a partnership writing the '21 Reasons to Visit…' travel book series—with three books under my belt in just over a year. Another win.
Win #2: I discovered a new love. Photography.
Taking photos to go with articles has led to a second side income by loading them onto stock sites, which was suggested by the Travel Writers Café. Using both Bigstock and Alamy doesn't make me rich, but it does pay off with one photo having just sold for $187! My photos have earned money three ways: sold with articles, sold as stock, and have even landed me writing gigs. Win, win, and win.
Win #3: New skills
I learned how to build a website and use social media to my advantage. These skills are transferable and can be used for anything, anywhere. For example, I just got free dive gear for a morning's work rewriting a local website's content aimed at travelers. Another win.
Win #4: More than $1,300 in free perks so far!
From elegant fine-dining restaurants treated like a VIP dining with the owner… to numerous trips and tours doing things I would never have dreamed of, including helmet diving in the Caribbean off Cozumel Island, Mayan chocolate making, premium tequila tastings, Americas Cup sailing regattas, and swimming with stingrays, sharks, and dolphins. Oh, the adventures have been amazing, reawakening my passion for life. Another huge win.
The moment you say you are a writer, the world opens up. Being friendly, polite, and smiling a lot also helps.
And it is possible. For everyone and anyone that chooses it. Everyone can write. Everyone can take a photo. Everyone can smile. Just take every opportunity that comes along, be professional, and deliver.