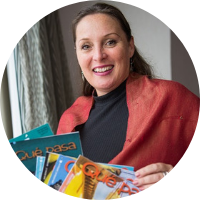 I remember the exact moment I knew I would become a travel writer. Laying on a beach in Bali enjoying my first holiday in over a decade, a small "ding" signaled the arrival of an email.
It changed my life.
The past five years in the Navy had been a blur, and, honestly, I was exhausted. Laying there on the white sand, I thought, "I need to change my life. I want to travel more. I want freedom."
So, it seemed like fate to receive that email at that time. My heart slowed as I read it. As if the heavens opened and angels sang, there was a moment of true clarity. The Ultimate Travel Writer's Program told me how it was possible to change my life to the one I dreamed of.
Become a travel writer.
It rang true. Like it was meant to be.
So, I did. And… it worked. 

Now I have my freedom, plus the adventure, travel, and satisfaction of living my dream life.
And you can, too. These three things will get you started:
1. Sign up. Invest in yourself.
That's it. Just do it. If you want to live a life where you're free to explore, travel, have amazing adventures, and meet incredible people, invest in yourself. Believe in yourself. It's the first positive step forward in changing your life. Sign up and learn how to be a travel writer. They spell it all out for you… and, if a sailor like me who had never written anything can do it, then so can you.
2. Have fun.
Writing is fun. Exploring new towns, places, and destinations is fun. Meeting new people is fun. Eating amazing food and enjoying cocktails at sunset overlooking the Caribbean is fun. Night trekking to catch a rare glimpse of a jaguar in a Belize jungle is fun. A travel writer's life is about as fun as it gets. And you get paid to do it!
3. Try.
This is one powerful little word. These three letters hold the key to your success. Try. And try again. And again. If you keep trying you will be successful. It is impossible not to be.
You will have wins, published articles, and build the life you want whether it is full time, part time, or as a hobby. Either way, what you put in is what you will get out.
So, with a little determination and a small investment, you can live your dream life, as I'm doing now, as a travel writer.