It can be hard to find ways to generate article topic ideas, so here's a graphic to help you…
Ways to generate article topic ideas: The biggest tip? Just go for it. Yes, you've heard it before…but, really, I can't emphasize it enough. You've got to bite the bullet. And, the sooner the better. To help you on your way, here are two top tips:
Roy Stevenson said that despite having 900 bylines to his name now, he's probably only written about 500 articles. He just sells and resells the same pieces again and again. There's an art to it, Roy told us. You can't sell and resell the same piece to competing markets. But you can certainly spread the wealth by pitching something to a magazine on the west coast and then, a few months later, pitch the same story to a publication on the east.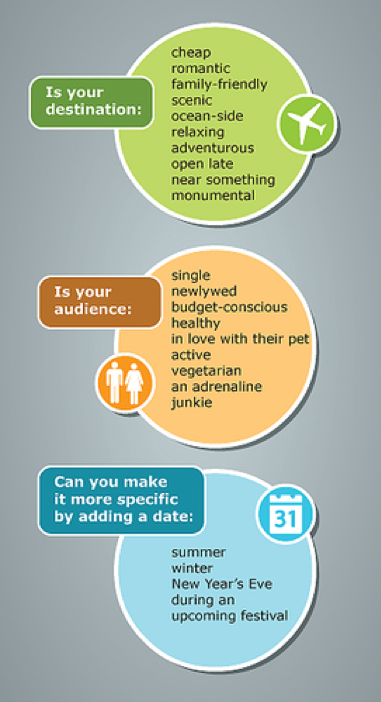 Likewise, expert travel writer Steenie Harvey says that U.K., Australian, and New Zealand publications are just as hungry for stories, too. So, when you're out of options here in the States, you can always look overseas to sell your work. And in some cases, you'll benefit from the currency exchange.
Below, Kurt Jacobson looks at 22 topics that he's written about so far to help give you some inspiration…
22 Travel Story Ideas To Get You Published
By Kurt Jacobson
Before attending The Ultimate Travel Writer's Workshop last year, I had only one article accepted for publication in 10 months of trying. I'd sent out queries but got no positive response.
After the Denver event, however, I became supercharged and had almost 40 articles published (or accepted to be published) in the next seven months!
Here's my list of 22 topics I've written about so far. Once you know where to look, you'll find travel story ideas all around you…
#1: Write about what you already know.
Since I'd visited New Zealand several times, had bought a rental property in Gisborne, and had lots of experience and photos of the area, I started there. I queried an editor at GoNomad.com and he accepted.
Where do you travel often? What places do you know well and have lots of photos of?
#2: Turn annual trips into article ideas.
I take fishing trips to Alaska every year, so I queried a publication that focuses on adventure travel and asked if they'd be interested in a story on do-it-yourself saltwater fishing in Alaska. They accepted, and now my annual fishing trip is also a travel-writing trip.
Do you have an annual vacation spot? Take lots of photos and write about it. Some editor out there wants your story.
#3: Visit National and State Parks in your area.
There are many great attractions in the area where I live, so I decided to visit a few. C&O Canal Park and The Great Falls of the Potomac Park are literally right across from each other but in two different states — Maryland and Virginia. I've written about both.
What national parks are near you? Go visit them. Take photos of signs and displays to help you remember what you saw and did. Write about it, and query several magazines and websites with your stories.
#4: Keep an eye out for programs advocating education, health, or recreation.
I wrote about C&O Canal's Free Bike Program and my article was accepted by two different publications. I had to turn one down as it could only be published once. But it's nice to know others want it. Maybe I can pitch something similar (or from a different angle) to the other publication later down the road.
#5: Always be ready to write – even if things don't go as planned.
A snowstorm made for a change of travel plans after landing in Durango, Colorado on my way to Pagosa Springs. The roads were too icy to drive that night, so I hulled up at the Historic Strater Hotel. I had my trusty Canon camera, so I took some photos and sold my review to trip101.com.
#6: Choose your hotels wisely.
I go to New York City 3-4 times per year and typically stay in the best-value places I can find. Now, instead, I always look for something interesting and unique. Something I can write about.
My review of The Evelyn Hotel also appeared on Trip101.com.
#7: Consider a vacation rental instead of a hotel.
The Maison Pignons, a Montreal vacation rental, has an amazing Bonsai garden out back. There are publications devoted solely to vacation rentals now in addition to travel magazines that take articles on vacation rentals. Use airbnb.com or vrbo.com to book one on your next trip, and then write about it.
#8: Find day-trips in your area. Tourists are always eager to learn about easy day-trips from specific cities.
What kind of day-trip possibilities do you have in your area? I wrote about a day-trip to Frederick, Maryland and sold it to a publication in Baltimore. Where can you go?
#9: Women entrepreneurs.
Women are trendy right now. I wrote: Poppy Wines: Profile of a Woman Winemaker
and told the story about the changing winemaking profession that used to be almost exclusively male.
You can find great stories about women pathfinders in tourism-related subjects and write about them for women's publications. (Note: You don't have to be a woman to write this type of article.)
#10: Write about local restaurants.
A food review of an interesting and historic DC eatery I love, Martin's Tavern, was published on TravelPostMonthly.com. They don't pay but if you like to eat, think about publications near you who might like reviews and then follow Kyle's advice in the program for getting them published.
#11: Find a new approach to a popular destination.
Kodak once said the Maroon Bells Peaks were the most photographed place on earth. I wrote about a hike nearby to avoid the crowds. You can find a similar natural setting and write something other than the obvious.
#12: Take advantage of your insider knowledge of your hometown.
Online travel websites love this type of seasonal/temporary information. I wrote about budget travel in Baltimore. People love to save money.
#13: Write about timely festivals.
Festivals are a great way to get an article published. I had photos and experience from previous visits to the Cherry Blossom Festival in DC. You can sell them the following year. Some editors need the story six months ahead of an event.
#14: Write with a special interest group in mind (families, solo travelers, adventure travelers)
I wrote: From Wellington to Wairarapa For Families With Kids. What special interest group do you know a lot about?
#15: Offer sound travel advice.
I've been to Japan several times and, when I land at Narita airport, I usually take the two-hour bus into Tokyo. The Nikko Narita Hotel, however, is right next to the airport and offers a good night's rest without the two-hour bus ride.
Look at what everyone is doing and find a better way to travel, pick a hotel, or attraction. Be creative and write about alternatives for other travelers.
#16: Write about luxury resorts.
My story on Peppers Parehua in New Zealand was readily grabbed by an editor.
Find a special resort to visit and show readers why it's worth choosing.
#17: Write about your hometown.
Try writing for the "City Guides" section of your hometown. They don't often pay but it gives you a byline and credibility. Other publications might want this type of story also.
#18: Explore an undiscovered hotel.
On an off-strip assignment for GoNomad.com, I profiled the Tahiti Village Resort Las Vegas
which provided me comped lodging. Make a case for staying off the beaten path.
#19: Visit new or just opened attractions.
When something is new or up-and-coming, editors want it. I did a "site visit" on the Grand Junction, Colorado: Wine Country Inn while I was in town for other business. It sold right away.
#20: Write about your past.
Alaska Magazine has accepted two of my stories so far. I wrote about experiences from more than 20 years ago living and working in Alaska and didn't need photos.
What kind of interesting jobs have you held, and where did you go? There are regional and special interest magazines out there that want your story. You can write about your life experiences and find a magazine that wants it.
#21: Use personal interviews to spice up your articles.
My article about the Ivy Hotel in Baltimore featured a story about the manager. Who can you interview for a story?
#22: Write about wildlife encounters.
I wrote: Three Young Coasties Meet a Musk Ox. This was a story about a wildlife encounter I had years ago in the wilds of Alaska that will appear in the February 2017 issue of Alaska Magazine. You've probably had wildlife encounters, both comical and frightening. There is a publication somewhere that wants your story.