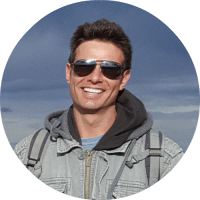 You probably already know your smartphone shoots video… and maybe you even own a DSLR or Micro Four Thirds camera that can shoot video… but you never looked into creating videos for income the same way you looked into photography.
Maybe you think videos are way too hard or too much of a learning curve…
I'm here to tell you that creating videos, and earning money with travel videos, is easier than ever before.
This is thanks to changes in technology, but also because the income potential is still very high since most people, like you, still haven't dared to try it.
Here are the 5 main reasons you should break into videography this year:
1. More and more travel companies need videos to sell their packages, but not many people offer affordable video services.
The demand for video is incredibly high right now because travel companies know video marketing works. And many of their competitors already use it, so they need to jump on the bandwagon, too.
However, affordable video production is difficult for them to find because large video production houses have high costs and, understandably, don't want to lower their prices. This is where you come in…
Even if you're just a beginner, an authentic video is incredibly valuable to marketers. But not many people offer this type of video—either because they are professionals already, or they're afraid to try.
Of course, you'll need to know enough to set your videos apart from complete amateur footage… but, with a few simple tricks and some guidance, you could be making money with videos by next month.
2. Your smartphone is incredibly good at shooting and even editing videos, making videography easier than ever before.
Have you heard about the iPhone movie? Yes, they shot an entire movie with an iPhone 7.
Director Steven Soderbergh (Ocean's 11, The Informant, Magic Mike) described it as a "liberating experience." He even said: "I've seen it 40 feet tall. It looks like velvet. This is a gamechanger to me."
While you probably don't want to film an entire movie on your smartphone… this proves you can certainly shoot a professional-looking video clip using just a phone. And, if you're using an iPhone, it will basically edit your videos for you—using a feature called "Memories."
It's so incredibly easy that anyone can do it, but most people don't yet recognize how much their smartphone can do for them.
3. It's now easy to shoot stable video without a tripod.
If you want to step it up a little bit and look even more professional (and therefore charge more for your videos), I've always recommended using a tripod to set yourself apart from the shaky amateur footage we often see on YouTube. And I still recommend you do this, if you use a DSLR or Micro Four Thirds camera…
But, if you use your smartphone or even an action camera like the GoPro, you can now use something called a hand-held gimbal to stabilize your footage—and even get amazing "steady-cam" shots that look like you're gliding forward while you're walking.
This technology is in effect a three-axis stabilizer, and no matter how much your hand moves, your camera remains steady. It looks really futuristic, and it's lots of fun to use.
The DJI Osmo Mobile is still by far the best gimbal for your smartphone at a price of just $179. But there are also cheaper, smaller, decent alternatives out there, such as the X-Cam gimbal for just $53.
4. You can finally go on your dream vacation and get paid to do it.
Fifteen years ago, I was working for a travel company in England, marketing safari packages to Africa. I had never even been on one myself and I desperately wanted to go.
Eventually I suggested that we market them with videos. It was that year that I started filming and traveling the world… and I've never gone back to an office job since then.
For anyone who loves to travel and see world, travel videography is a dream come true. Whether you're retired or just want to travel during your vacation time, creating videos is the most fun—and the most lucrative—way to do it.
Photography is great fun, of course… but your income potential is much higher with video. Most people think video is much harder to do and are intimidated to try it, so you have less competition even though companies pay better for videos.
Once you learn how to create a custom-made video, you could get paid for your next vacation or simply receive a 5-star hotel stay for free in exchange for a simple hotel video. I have traveled the world this way—to Australia, New Zealand, Europe, North America, Central America, and beyond—and I earn up to $80,000 a year, while still taking 3 months off each summer.
5. You don't need a big investment to get started, and it's risk-free.
Unlike other undertakings, becoming a travel videographer doesn't require much initial investment. Like I mentioned, all you need to get started is a smartphone… and let's be honest, most of us already own one. Even a small investment of no more than $50 can make all of your shots look like you're a professional steady-cam operator.
So, what are you waiting for? If you have a smartphone and bit of spare time, you could be earning money as a travel videographer by the end of next month.