Check out these two photos: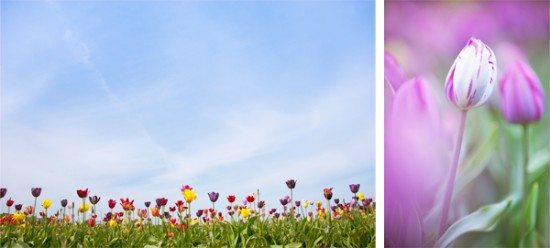 Although these shots were taken in the same tulip field, they are very different images.
This is the power of changing your lens.
The photo on the left was taken with a wide angle lens and the photo on the right was taken with a telephoto.
While wide angle lenses are great for taking in an expansive view, telephoto lenses shine when you want to hone in on your subject and blur the background and/or foreground.
Think of a lens like your camera's eye. It's how your camera sees the world. And it's worth spending some time getting to know the lenses in your camera bag.
Try experimenting with a scene, shooting with every lens you have to create vastly different shots of the same subject. (If you only have one lens, be sure to zoom through all the focal lengths.)
Give this a try next time you're out photographing, and you'll learn a ton… while also coming away with a great variety of images to submit to your stock photo sites.
Breakfast Stock Club Premium Members — your Photo Challenge this month is all about what to shoot for stock using a telephoto lens! Be sure to check out your latest PDF Roadmap — it's packed full of practical advice and creative ideas for taking stock photos with your longer lenses. If you'd like to become a Premium Member and get in on this new Challenge, try it out here.
Happy photographing!