It's 2018! Today, I'm writing to you from Buenos Aires, Argentina.
Jordan and I decided to start the year somewhere new and exciting – so we found an apartment in Buenos Aires and bought a one-way ticket to arrive on New Year's Eve.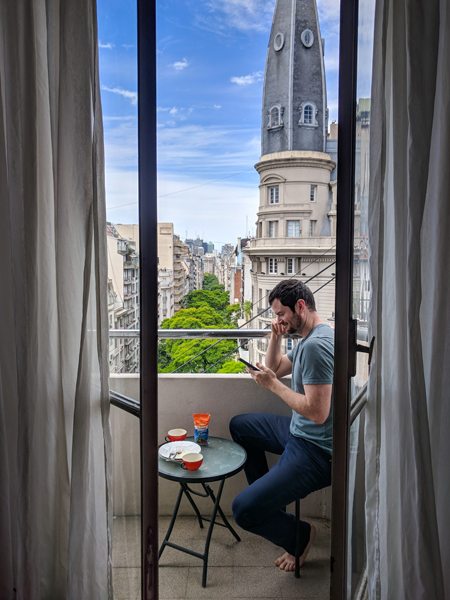 Our apartment terrace, where I can't wait to set up a stock shoot!
After a month here, we're off to another place somewhere in the world. And after that… who knows!
Our fall stock photo workshop with Lise Gagne in Provence gave me so many ideas for stock photos that I'd like to try here. Themes of "working from home," and "working abroad…" as well as iconic shots of tango, empanadas, wine, and the all-important Argentine BEEF.
Shooting here is tricky, though, as we've been told that pickpockets and purse snatchers are waiting around every corner. So, we spent our first week scouting and getting our bearings.
If you have time to scout a place before shooting, it's always a good idea. Here are a few tips for scouting your next shoot in a new city…
Scouting Stock Photo Shoots in a New City
1. Start with the icons. Start by making a shoot list of the iconic things you'd like to cover. Anything that immediately springs to mind when you think of a place is "iconic." For example, when I say "Paris," you think… Eiffel Tower… River Seine… wine… cheese… Sacre Coeur… cobblestones… etc. Include any neighborhoods in the city that are "hot" right now, as well as old classics.
2. Research your locations. Get online and map out where you'd like to shoot… then find out if they're safe for tourists… what time things are open… when the street market happens, etc. Figure out how you'll get there and back. Can you take the metro? Does Uber exist where you are?
3. Check daylight & weather. See when sunrise and sunset will happen. The best light for shooting outdoors typically happens from sunrise until about an hour or two after… and an hour or two before sunset through sunset… then after sunset, into "blue hour." Bonus: For blue hour, find out whether or not famous landmarks are lit up at night (and until what time).
Cloudy days are good for people shots, architectural details, and trips to restaurants and museums. For sunny days, get out early morning or late afternoon to try to get any landscapes or cityscapes.
4. Go explore. Once you have an idea of where to go, when… do a test-run. Bring your phone and take some snaps to remember where you'd like to come back with your camera. You'll be able to find the best angles, take note of the time when the light is beautiful, and gather ideas. You'll also get a feel for what's safe and what's not. In certain places, you might want to shoot blue hour in a group of people, instead of on your own.
Of course, you don't have to travel far to scout shoot locations! You can do this right in your own hometown, too. And doing so might even help you to see it with new eyes.
I'll share some photos from our time here in coming issues.
In the meantime, I hope this scouting guide helps with your stock photo shooting at home and abroad.