Last week a friend took me to lunch. It was such a treat: the rooftop oceanside views overlooking the Caribbean were gorgeous. But what really got my attention and intrigued me was the style of pizza on the menu.
It was my first slow-fermentation pizza experience. Simple, delicious, and with a nice cold glass of Pinot Grigio, who wouldn't want this to be their lunch?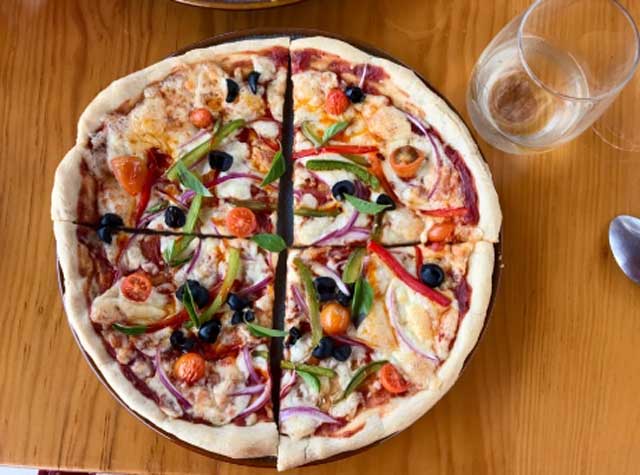 I had to take a photo, and, boy, am I glad I did. I was able to use it to my advantage: the next day I sent a pitch about the latest foodie trends to an expat magazine, making sure to include this photo near the top of the pitch.
As soon as the editor opened the email, she saw it and wanted it. The pitch turned into a commissioned article within 24 hours and will pay $100.
Editors are always looking for photos to go with articles and most magazines and publications source a lot through stock. If you show upfront in your pitch that you have a lovely photo to go with your article, the editor will want it all.
Why? It shows you understand their needs, and it means one less job for them. They don't have to source a picture.
So that's a $100 payday for the three seconds' work it took to snap a pic of my lunch before I gobbled it all up.
When was the last time you earned $100 in three seconds?
After that success, I decided to see how everyone else responded to my new foodie find.
I used it on social media—I shared it as Foodie Friday—and the response was fantastic, giving me another idea for an article.
Once again, I sent an article pitch. It was a completely different angle, editor, and publication. This time I approached the subject from a photography angle. Once again it paid off. Another article acceptance, commission, and a $150 payday.
That now makes $250 from three seconds' work.
But wait, there's another—a third pitch I sent outlining yet another article. As of now, the editor is interested and looking for an appropriate opening in their schedule to use it. That will mean another $150 payday…maybe not next week but likely within a few months' time.
That brings the total pay to $400 for three seconds' work—just one quick picture of my lunch.
Can you see the point I'm making? Photography helps sell stories.
Even smartphone photography can help your writing—you don't need to be a professional photographer or have any fancy equipment.
One quick snap at lunch with your smartphone can earn you big dollars from multiple angles. That free rooftop lunch with my friend will go a long way towards paying my rent. Not bad in my book. And as soon as I think of more article ideas, I will be sending out more pitches. All with the same photo.
I know you all have foodie photos galore saved up from your adventures. Trying new restaurants and new cuisines is a favorite for us travel writers; food is a big part of our trips.
Now is the time to use them, especially while travel is restricted. Grab an editor's attention with that gorgeous food photo. Visual aids work and it makes your pitch look more professional.
You don't have to be a professional photographer. Just pull out your cell phone and take a moment to take a picture or two. In a few seconds and you too could be landing multiple article acceptances with it. Plus, it's a good excuse to indulge and dine out. The picture of your meal can pay for your meal, put a little extra dough in your pocket, or even pay the rent.