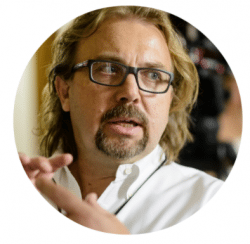 Laptops or tablets are a necessary tool for travel photographers. We need them for editing, processing, and storing our still photos and video clips. As if it wasn't enough of a burden to carry on our computers, new security rules restricting the electronics we can bring aboard in our hand luggage make things even more inconvenient. 
(Note: Currently the ban only impacts direct flights to the United States and the United Kingdom from 10 airports in 8 Middle Eastern and North African countries, although more countries may join this security effort.)
My wife (a university professor) and I just led a group of 12 college students to Jordan where they learned to use digital media to tell compelling stories of the refugee crisis. The students created blogs which they updated daily with stories, photos, videos, podcasts, and vlog posts. It was an amazingly successful trip. Our return flight was direct from Amman to Chicago, so we couldn't carry our cameras, laptops or tablets with us – they all had to be in checked luggage. Fortunately, this is not my first rodeo, and I've learned some tricks to help my equipment arrive safe and secure.
First the bad news…
Checking electronic equipment as luggage exposes it to damage, loss, and hacks. Your computer and camera could break or be lost. Even airlines warn against packing valuable or breakable items like computers in checked baggage. Beyond loss or breakage, as soon as you let your computer or tablet out of your sight, it's also vulnerable to hacking. Here are a few things you can do to protect your equipment when traveling. 
Set up security.
First, require a passcode or fingerprint to open your computer. Then do a full back-up before leaving for the airport, and leave that in a safe place at home. Before you pack your computer, shut it down completely – don't just put it into a sleep mode.
Don't pack it if you don't have to.
On your way to your destination, you can carry your computer and camera on the plane with you. Please do so! Even though we're going to take great pains to pack our gear safely as luggage, don't check it on unless you absolutely have to. 
Here's what I do…
I have a MacBookPro 15" that I carry in a Thule Gauntlet 3.0 case, which is a great, lightweight case with a shoulder strap… perfect for going to a coffee shop and processing photos, editing video or writing stories.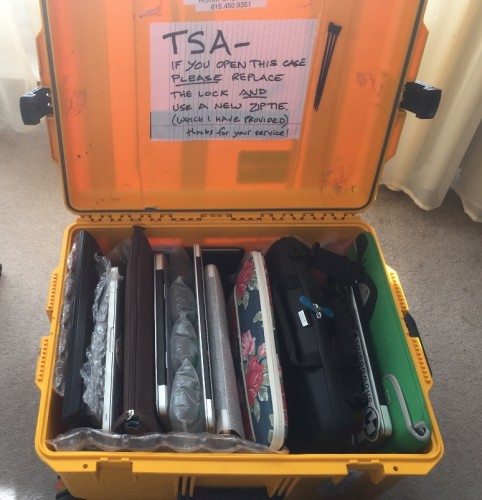 But, when I need to check the computer on as luggage, I use my Storm iM2500 rolling travel case. The one I have is yellow… I like to be able to see it from a distance. And I have the accessory organizer in the cover so it's useful as a carry-on for my outbound flight.
First, I put my Mac into the Thule case, and then into the Storm case. It fits snugly with some space on the side to add two camera bodies in neoprene wraps (the lenses are in my carry-on). I put my charger/power supply in my checked-on suitcase. This system works great and I've never had a problem. I always put a TSA lock on the laptop case and also on the Storm case, plus, I put a zip-tie on the case to keep it more secure. I put a note inside the Storm case asking politely for security to replace the lock and use a new zip-tie. So far, they have always complied. 
I hate checking my laptop; I'm going back to the Middle East in two weeks (yeah, crazy, I know… ask my wife) and I've booked myself with a connection in Paris instead of the direct flight back to the U.S., just so I don't need to check my gear. But, if I have to, I'm ready.
And now… so are you.