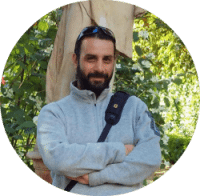 "Your photos are beautiful, you were born with talent."
I hear this sentence from time to time and I usually shake my head in disapproval. I firmly believe we are all born with talent, but not everyone decides to pursue a creative life.
I discovered photography only a decade ago, after an impulsive camera purchase. I have no background in Arts (I studied Law), and I was working in Human Resources in a big contracting company.
Buying a camera triggered the creativity I was longing for. From curiosity, it turned into a passion and, within a year, it became my job. I left the corporate world to become a full-time travel photographer.
My photos weren't miraculously stunning when I first started. They were a mess of colors and bad composition and I needed to practice and make mistakes every single day.
Just like we learn how to play an instrument, cook a meal, or drive a car, I had to learn how to take better photos.
During my journey, I learned these 5 important lessons that allowed me to pursue my passion:
1. Practice everywhere, all the time

You can read all the books you want and watch all the tutorials you find, but unless you take that camera or smartphone and start shooting every day, you will not improve. I brought my camera everywhere and took photos of everything, from landscapes to fine art.
Theory sounds great but nothing beats practice to really understand camera settings, composition rules or how pushing sliders in Lightroom enhances a photo.

2. Never stop learning

Photography is fun and not a chore. Unless you're a wedding photographer, you have plenty of room for mistakes, which become stepping stones to build your photographic knowledge.
I kept trying different things, changed my composition, changed lenses, changed my camera settings. I spent time in Lightroom learning how to edit photos with new techniques. I read a lot, asked questions, watched videos, and pushed myself out of my comfort zone. Even today, as a full-time photographer, I never stop learning.

3. Put yourself out there

One of the fastest ways to improve your photography is to allow yourself to be open to public feedback.
It sounds terrifying, but there's a whole community of like-minded photographers, from the fresh beginner to the seasoned professional, who are ready to greet newcomers with open arms and provide valuable feedback on your photos.
Articles and video tutorials are helpful, but they'll never point out the mistake you're making like a real person would do. I shared photos on social media and asked strangers online to provide feedback. As a bonus, it also helped me develop a thicker skin!

4. Find your own voice.

You might think the photography world is saturated, and it would be near impossible to sell photos. But there are thousands of clients looking for images, from the classic stock photo to the more obscure niche ones.
I tried many different styles and focused on what I loved shooting. I edited my photos to give them a specific mood. With enough practice, I eventually developed my own style, which attracted specific clients I enjoyed working with.

Everyone can click a shutter button, but not everyone can create recognizable images like Ansel Adams, Cartier-Bresson or Steve McCurry.

5. Just do it.

The most important lesson is to just grab your favorite camera, whether it's a mirrorless, film or smartphone, and just do it. You can come up with a million excuses and procrastinate, but even a few minutes a day is enough to improve your skills from the comfort of your home.
So, grab your camera, have fun shooting, and allow your creativity to run free.