Last week, I came back from the South of France, where I was with 10 of your fellow readers and iStock legend, Lise Gagne. We spent a week learning how to shoot stock photos in the streets of Saint-Tropez, from our villas above the Mediterranean, and from a chateau deep in the countryside.
You guys — it was amazing. I've already submitted 30 photos and had them accepted to my agencies… and those are just the first batch.
When you're out shooting stock images in the streets, it's important to remember that stock agencies need images that are "clean," with no logos or recognizable people (unless you have a model release).
Here are two things you can do to keep your images "clean" and stock-worthy:
1. Use angles to eliminate logos and trademarks.
For example, take a look at this first photo. In the shop window behind our model, there's a product with words on it – clearly trademarked and clearly readable.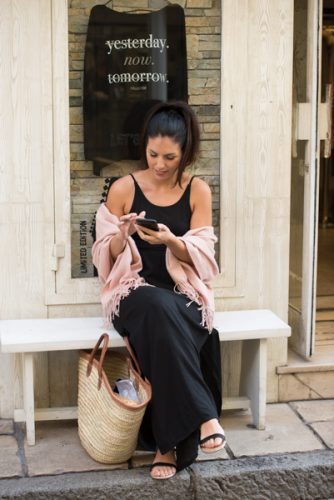 By moving to the side and taking the photo from an angle, we can eliminate any words altogether: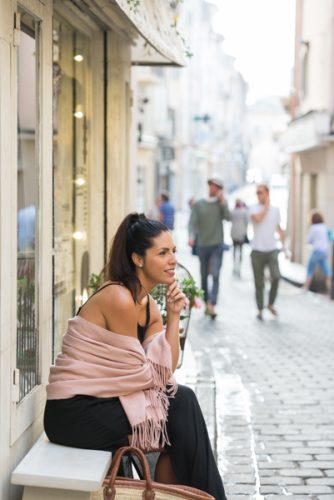 2. Blur people in the background.
You can't include recognizable people in stock photos, unless they sign a model release (as our model did). But you CAN blur people in the background, to keep the human element there, but make them completely un-recognizable, as we did here: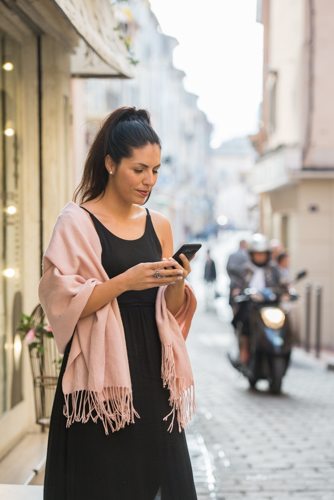 To blur the background in your photo, use a telephoto lens (this one was shot at around 100mm), and a small f-stop, or aperture number. In this case, I used f/2.8.
This photo was accepted into my agencies, so the people in the background are considered un-recognizable.
I'll show you some more photos from the trip and share another tip next week!
In the meantime, whenever you head out to shoot photos around your home or on your travels, think about how you can use angles and blurring the background to keep your images "clean" and stock-worthy.