So, what do you want for Christmas?
How about a top-of-the-line camera… a super-fast lens… and a trip around the world to take prize-winning photographs of the world's most beautiful places?
Yeah, well, in case you're looking for something just a wee bit more practical, here are a few photography gifts you might find on sale this week over Black Friday and Cyber Monday to fill a stocking or two…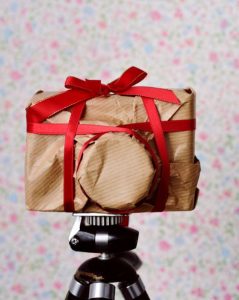 $10-$30 Budget
The Manfrotto PIXI mini tabletop tripod: This tiny tripod is surprisingly useful, especially for tabletop photography. While weighing only 6oz, this handy little tripod can support cameras up to 2.2 lbs. It's small enough that it can slip into any purse or bag, so it's easy to keep at the ready for times when you just don't want to carry a full-sized tripod.
Collapsible reflector set: Reflectors are must-haves for the serious photographer's arsenal. They can add a pop of light to objects, food… and they're especially helpful when taking pictures of people outdoors. This multi-disc reflector set features five surfaces—gold, silver, white, black, and transparent—that collapse into their own 15-inch bag.
Bigger and faster memory cards: If there's one thing that a photographer would appreciate as a gift, it's more storage space for all of their photos. The Silicon Power Elite Micro SDXC UHS-1 packs a ton of value in a super-fast card. You can get up to 128GB of space (so much space!!), and get this: These cards are waterproof and shockproof, can survive extreme temperatures, and are immune to the X-ray machines at the airport. 
World adaptor plug: When you're traveling around the world to take breathtaking photos, having the wrong kind of plug is a big buzzkill. This handy adaptor and charger can help you plug in and charge up to three devices in more than 150 countries. Plus, it's small enough to fit in your camera bag. It's like the Swiss Army Knife of power!
Wasabi charger kit: It never hurts to keep an extra battery-charger on hand and the charging kits made by Wasabi include both a wall plug and a car charging adapter, as well as a couple of spare batteries. The car charging adapter is worth the price alone if you find yourself on a long road trip away from the convenience of wall outlets. Be sure to purchase the correct version for your camera's particular battery type. Here's one for Fuji cameras.
Giottos rocket blaster dust removal tool: This is one of those things that should live in every photographer's gear bag. Easily blow away dust and debris from the front of your lens when you're out and about. It's also great for removing grit from in between your camera's knobs, dials, and even your computer keyboard. And, of course, it's also invaluable for removing dust spots if they end up on your camera's image sensor.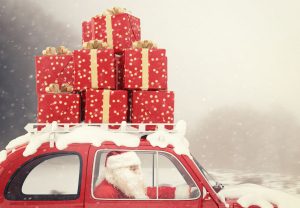 $30-$100 Budget
A comfortable camera strap: The everyday camera straps that come with your camera… well they're just not that great. They can be itchy or chafing and they don't distribute the weight well, putting it all on the back of your neck. Try a nice, comfortable camera strap and you'll never go back. BlackRapid makes cross-body straps that are lightweight and secure. And this padded sling strap from Peak Design also gets high points for comfort.
A Stylish, dependable backpack: The ideal camera backpack is rugged and protective, yet doesn't attract too much attention or make you look like a dork. S-Zone makes this comfortable and waterproof canvas backpack in three attractive colors. It's strong enough to protect even your heaviest DSLR. And this slick GOgroove pack will also tote your tripod and has an inner sleeve that will fit your tablet, too.
Photo tip cards: Our Great Escape Publishing Photo Tip Cards make it so much easier to take beautiful photos wherever you are. Get your settings right the first time and cut down on your processing, produce striking images, and get accepted more quickly to stock photo agencies. They make a great stocking stuffer—even if you're stuffing your own stocking.
B+W circular polarizing filter: If there's one filter that is absolutely essential for the landscape, nature, or travel photographer, it's the polarizing filter. There's no better way to cut glare and annoying reflections from rocks, water, wet leaves, buildings, roads, etc. While there are lots of cheap filters out there, it's worth it to pay a little extra for high quality filters such as those made by B+W. Filters come in different sizes—be sure to purchase the correct size to match the filter thread size on the front of your lens. 
Hoodman Hood Loupe: One of the most common complaints about digital photography in the outdoors is not being able to see the photo on the back of the camera screen because of glare from the sun. Hoodman Hood Loupe to the rescue! This great little gadget fits over the back of your camera's screen and will let you see your image perfectly, even in super bright conditions.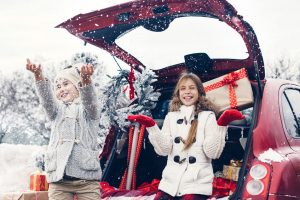 $100-$400 Budget
Adobe Lightroom: If you want to sell your photos and you don't have Lightroom… it's time to get it. This program is a must for anyone serious about improving their photography. Lightroom not only allows you to process photos beautifully, but you can also organize them, keep them in "collections," add keywords and titles, and more. It's well worth it if you truly want to sell stock photos… and even more worth it if someone gives it to you as a gift! You can now get Lightroom and Photoshop together for $9.99 a month.
Think Tank Airport Roller Derby carry-on camera bag: Think Tank makes all around amazing travel bags for photographers. Their Airport Roller Derby bag is especially awesome since it can hold a ton of camera gear, accessories, and even a laptop while coming with you onto the airplane. 
Turn Your Pictures Into Cash: For everyday study, or as a reference on your virtual bookshelf, Great Escape Publishing's landmark study-at-home program is for anyone ready to start earning money from their photography skills. With downloadable chapters and brand-new instructional videos, the handy online edition of Turn Your Pictures Into Cash opens the door to markets you may never have heard of… with easy steps for taking and selling your photos… no matter how "beginner" you are.
Fujifilm Instax Mini 90: Here's a fun gift idea—a small camera that shoots Polaroid style instant film! They are a blast to travel with and also for photographing family events. The Fujifilm Instax Mini 90 has a cool retro look and also gives a bit more creative control with various settings then some of the other instant cameras on the market. It even has a double exposure mode which is a lot of fun to play with. 
The "I'll Love You Forever" Budget 
Hint Dropper Alert: There's a big photography workshop deal coming up in our Thanksgiving Sale this week. Nothing gets you started faster than picking up your camera and taking photos alongside a professional. 
Our workshops and expeditions speed up your learning while you're out shooting—plus, they're a blast. Stay tuned for more on our workshop destinations and deals this week and maybe "accidentally" link to one in an email to that special someone. Did I mention spouses and guests get to join in at the big discount?