"We are making photographs to understand what our lives mean to us." ~ Ralph Hattersley
I love this quote. It says so much about why photography is essential to the human spirit. Whether they make us laugh, cry, or sink our teeth into the meat of the moment, photographs can mean much more than words.
The quote inspired me to share five simple ways to get started with your camera from right there at home. I followed these tips when I first began my photography journey and still use them today.
1. Start with the equipment you own
Many new photographers think they can only sell great photos if they own expensive equipment. You know what I'm talking about, right? The fancy camera with a lens that seems bigger than the person behind the viewfinder.
I mean, I'd love a set-up like that, but I know I don't need something so elaborate. In fact, some photographers I know are successful by making good use of their smartphones—that's it! They even sell videos.
So putting off photography until you have the extra cash to spend on the newest DSLR or mirrorless camera is a shame. Often, this investment simply doesn't happen, and you throw in the towel before even getting started.
2. Jot down things you're interested in photographing
Another important tip for taking hometown photos that sell: Grab a notebook and jot down everything around town you think will make an interesting photograph.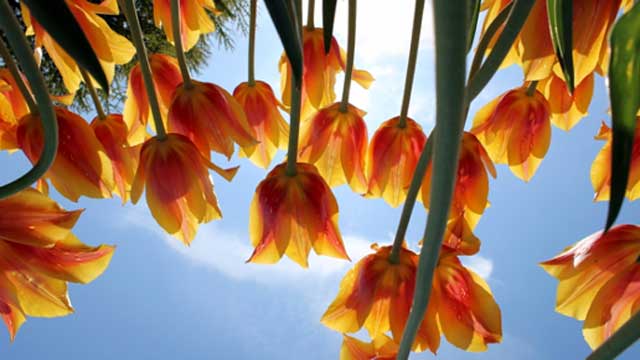 From a tulip festival in a nearby town. I decided to lay down and take the photo from the underside of these gorgeous flowers.
I often walk down Broadway—the main drag in Saratoga Springs, where I live—looking for subjects that catch my attention. One day it might be the fancy French pastries lining cases inside my favorite coffee shop. Another it could a Christmas event, with folks decorating a holiday tree, wining prizes, and organizing an auction (a great community event that raises money for our local Catholic charity).
I can sell my photos for travel articles, in greeting cards, to various stock sites, and more. I can even sell my shots as fine art.
3. Research glossy publications that want great photographs
I love researching different ways to market my images. I use Google all the time—it's a great way to find both popular magazine and the lesser-known, quirky publications that love photo essays.
I can also find photo contests on the internet. I've had some of my pictures featured in landscape magazines, online blogs, and Destination Saratoga pages. It's fun to see a shot I thought was exciting show up where I least expect it.
How often do you go to the library, doctor's office, or car dealership where you wait for an oil change? Take some time and browse through their magazine rack. You'll often find creative ideas you can rejig and make your own when you're out with your camera.
4. Identify and reach out to local contacts
Here's the thing: You can't sell a photo if no one knows you are a photographer, right?
I sold a series of food images at a local restaurant just because the waiter saw me in the corner, photographing my meal against the soft light streaming in through the windows. He brought the owner over, we had a conversation, and she hired me to photograph their new summer menu items.
Now, it's not always that easy, but it can be.
People refer to me as "the camera lady" because I always have my Canon with me. They know I take pictures, and it's the perfect segue into sharing what I do. I've landed family and wedding shoots, senior and infant portraits, landscape shots, and fine art contracts simply because I shared that I'm a photographer for hire.
5. For goodness' sake, have fun
My photography career never seems like a (tedious) job because every day is different, and there are many ways I keep it fun.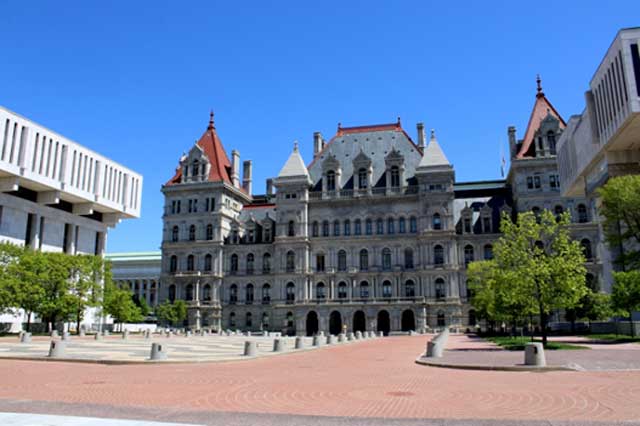 The New York Statehouse, for an article I wrote about haunted places to visit near Saratoga. It was a hit with our readers.
Of course, I pay attention to the technical details needed to make a simple snapshot transform into an image people want to buy.
I think about how to take the shot: where's the best light, best angle, about the rule of thirds, things like that. They're all important considerations. They can make or break an image.
But I also want to work in an element of surprise. I love when people stop for a second and stare at my photograph. It's tempting to ask what drew them into the frame in the first place.
You can take a photograph that sells—and sells well. You just need to try, and the best place to start is right where you live.