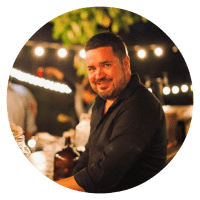 When I left home for six months' travel around Southeast Asia, I considered starting a blog… but I talked myself out of it. 
I didn't want editing photos, searching for Wi-Fi, and writing and editing posts to take away from my experience. 
I wanted to live in the moment. 
But then, somewhere along the way, I fell in love with travel and I knew I wanted to keep going. 
What started as a six-month adventure turned into two years. I decided I needed something to structure my time, so I (finally) started a blog. 
At the time, everyone told me I wouldn't make money in my first year, but I was confident I would be the anomaly. 
It turns out they were right. 
What I did get during the first year, however, was a real sense of what it takes to be a professional blogger.  And, I got an incredible new network of friends along with tours and hotel stays that were comp'd  in exchange for my reviews and promotions. 
At the one-year mark, with little to no money made, I wrote a post as I tried to decide whether it was worth my time to continue blogging. (You can read that post here.) 
Spoiler alert: I decided to keep going, and I'm glad I did.
Since deciding to continue this journey, I've trekked through the mountains of Nepal. I've explored the pyramids of Egypt. I've been scuba diving more than 150 times at the world's best dive sites. I've hurled tomatoes at strangers during La Tomatina—the largest food fight in the world. I've hiked the jungles of Malaysia hunting for rafflesia—the world's largest flower also known as the corpse plant. 
I've climbed a temple in Bagan to watch the sunrise, and I've sat on beaches, cocktail in hand, watching more sunsets than I can count. I've gone hot air ballooning over the fairy chimneys of Cappadocia. I've taste-tasted bugs from vendors on the streets of Thailand and had Michelin-star meals in Taiwan. All of this because I continued and turned my site into a money-making blog.
For me, the turning point was when a friend with a much larger and more popular blog than mine reached out to me after reading the post. She told me, to my surprise, that she doesn't make the majority of her income from her blog directly, as I assumed she had. 
Instead, she told me to use my blog as a showcase to present to companies I wanted to work with and a light went off.  
My blog is now my showcase. It's proof that I can write for companies I want to hire me to write for them.  And it's proof to tourism boards and other news media that I can get their message out to thousands of readers.
Today, I make most of my income from freelance writing and sponsored posts. Companies find me through my blog and they ask me to promote their event, hotel, tour, etc. to my readers. I set my fees around $500+ for each post.
I also sell sponsored posts on my social media accounts, although I've been very selective with this route. It's always more important to stay on brand than to sell out for quick cash.
Due to my reach on social media, I've also been selected for press trips, and I've been invited to accompany another blogger on a paid trip to Egypt in exchange for providing photographs to the company sponsoring the event. So again, my blog has increased my network of fellow travelers and people I like to be around. 
For me, what started as a side project to structure my time and earn some free trips has now turned into a full-time job. I didn't set out for it to be this way.  But somehow, I've happily landed here.
I love the freedom and independence to work from anywhere. With only a Wi-Fi connection, I'm able to deliver projects to companies I work with all over the world. 
If this way of life appeals to you, I'd offer this advice: 
Start a blog because you enjoy writing and want to be a part of the community.
The most important thing is to be flexible. Be prepared to take on new challenges and recognize opportunities as they're presented to you.
Even though you'll be tempted to, don't expect the money to come immediately. Instead, use your blog to present the range of skills you possess that can provide multiple income streams. 
Don't just write blog posts. Do freelance writing, sell photography, do consulting work, land press trips, and earn commissions from hotel bookings through your site – there are a number of ways your blog can lead to income.