As a travel writer, I learned early on how crucial marketing is to travel writing success. Simply put, if you don't market yourself, no one knows you're out there.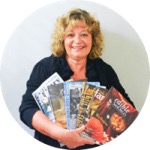 Social media is the ideal way to showcase your profile as a writer, and it's especially important in today's world. Initially by trial and error, and later with more advanced guidance from the experts, I found that marketing through social media has yielded a myriad of benefits—and blessings.
1. Open doors to publications.
One of my biggest surprises in marketing through social media was editors reaching out after I've posted my published stories. After I'd shared a few published pieces on destinations in Mexico for example, the editor of a high-visibility travel blog asked if I'd ever been to San Miguel de Allende, which I had.
Without even having to pitch a story, he gave me an assignment. You never know when a publication is looking for someone to cover a particular place or region. And because of marketing your work on social media, it may unexpectedly open new doors.
2. Press trip opportunities.
When you share stories and photos on a variety of social media platforms, tourism boards and their associated representatives can view your work and see how you showcase a destination you've visited. And as a result of consistently following through and sharing your stories and photos on social media after a sponsored press trip, they know you're good at your work. I've routinely had PR reps contact me with new or follow-on hosted invitations resulting from my social media postings.
3. Invitations to media events.
When I'm covering a local story or just enjoying time in my own hometown of San Diego, I make sure I tag my local tourism boards on social media posts. This practice, coupled with the sharing of other local stories I've had published, has opened the door to fun, fantastic social media events sponsored by some of our top hotels, restaurants, and venues.
I get to take a guest along while being wined, dined, and pampered as a privileged member of the "media." And why? You guessed right. It's because my profile is all over social media. You never know what surprise may be around the next bend, all because you're using social media to your advantage.
4. The chance to share your story.
As writers, we're usually the ones out there interviewing a chef, winemaker, or bed-and-breakfast owner for a story. But having the opportunity for someone else to interview us for a story is pretty awesome.
I've had the honor of being featured in three publications about my transition from nurse to travel writer. The fact that I can share my entrepreneurial journey and all I've learned in the six years I've been a travel writer is a happy place for me.
But this would have never happened if I hadn't established a social media presence to share this information with the virtual world. I call it a benefit because paying it forward sure feels wonderful.
5. Connecting with other writers.
By far one of the most enriching aspects of using Facebook, Instagram, Twitter, and other social media outlets is the relationships that emerge and blossom because we're putting ourselves out there for the world to see.
Connecting with other writers brings a myriad of benefits. Friendships are established, and you find you're never alone as you navigate the ever-changing world of travel writing. Critical information about editors, publications, and tourism board contacts becomes collective and valuable knowledge.
The phrase "we're all in this together" couldn't be truer than it is today…especially when we're all connected.