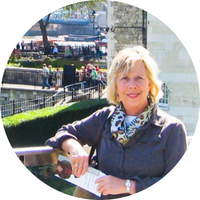 For years I've collected folk art from vacation travel in numerous countries. Friends would ask if/when I'd bring back anything to sell to them. In the far back of my mind was the thought that someday I could own an import store. But since I was heavily involved in other businesses, that store was just a dream.
Then, in 2005, while traveling in Mexico and once again overcome by beautiful folk art, I made the decision to purchase a larger quantity of handicrafts and ship them home. Thus was the beginning of Global Hands Artisans.
Why importing and why folk art? During my career, I've started several businesses that had the purpose of meeting people's needs. With an import business, I can do the same thing…
Basically, I help local artisans to expand their market, so they can sell more of their very fine folk art. They create exquisite art, but very often only sell one piece at a time to tourists visiting their village, not having the means to sell on a scale beyond that. I try to help them sell more.
Personally, I tend to focus on working with cooperatives of women in Third World countries, so they can continue to create traditional art, enabling them to support their families and send their children to school. What a joyous mission for a business!
Not only does an import business help artisans… it can also improve our own travel experiences. Enter a village, ask questions about the local art, offer a business card that identifies you as a business-owner who sells art, and you are no longer "just" a tourist. You may be invited into homes, to share meals, encouraged to try making the art, or be taken to cooperatives. These special opportunities aren't offered to most tourists.
Of course, by importing you can also earn an extra income. The dollar amount depends on the type and quantity of art you select, the prices you charge, your travel and marketing expenses, and how much time you put into the business. You can sell the imports at craft fairs, conferences, home shows, online, or wholesale, all of which I do. You might even decide to open a store. The art could include an ethnic piece for a unique touch to home decorations, additions for art collectors, or unique gifts of wearable art or jewelry… and more.
Our company's byline is "Bridging the World Through Art." With each sale, we offer a story about the artist who created the item, with the intention that the story aids in making a person-to-person connection from the artist's country to ours. The first purchase very often leads to repeat sales by customers who return to our displays or website.
So in addition to income, importing also helps to make positive changes in artisans' lives, enrich purchasers' lives and homes, and improve your own travels. Income, service, relationships, fun, and personalized travel… importing and selling folk art really does make for a desirable and meaningful business adventure.