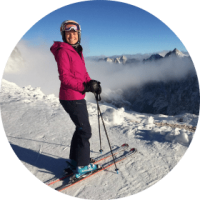 I'll never forget writing my first travel article. It was the initial piece in what became an established road trip series. 
It was Santa Fe, and it was beautiful. I had never been, and from the curious and adventurous appetite of a travel writer, the experience was all the more rich. 
It was an 80-minute chocolate mole mud wrap, a plate of "Christmas," and a salt-rimmed margarita. 
It was a trip to The Railyard Arts District and sips at Second Street Brewery. It was yoga in the morning, a hotel siesta in the afternoon, and an illuminated walk up Canyon Road in the evening. 
It was nothing short of magical, and I couldn't wait to share these special moments with the world. 
Being a travel writer really is all that it's cracked up to be, and here's why: 
You Explore Every Day
Whether on a trip or researching the next one, travel writers are always diving into a new journey, searching for their next story. The beauty of traveling is that it's an experience built on a collection of stories, so content is never hard to create. 
You Can Work From Anywhere 
Work is travel, and travel is work. Nothing compares to the freedom you have as a travel writer, since you can bring your computer and camera with you wherever you go. Somewhere in all the adventure, you have to find time (and a good chunk of it) to write. It's not so hard, though, when you've got all the cafés in the world to make your office for the day. 
You Meet An Amazing Network Of People
From area representatives who help travel writers arrange itineraries to the strangers we meet along the way, this is a job that feeds the fulfillment of human connection. Before a story is written, it's experienced, and it's always locals who really help a writer learn about a place. Then we can share that place with travel-ready readers.
The World Sees Your Work
With the help of the Internet, travel writing has more exposure than ever, which means writers are getting more exposure, too. Once your piece has been published and put online, anyone who is researching an area you've written about may find your work— your travel tips, favorite restaurants, hotel reviews, activity ideas, and more. And from there, your words and your byline can reach across counties, cities, countries, and continents.