I remember the day my travel writing gear included headphones so I could communicate with the Bell 407 helicopter pilot who was transporting me to the quaint Puerto Rican city of Isabela. As we soared above the island's northern coastline, the pilot pointed out a historic lighthouse, Ricky Martin's home, and a 360-foot bronze statue of Christopher Columbus.
It was December, and rather than contending with a foot of snow back home in Minneapolis, I was basking in sunny, 84 F weather during a four-day press trip showcasing the best of Puerto Rico.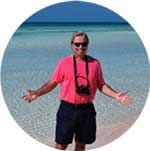 I've certainly come a long way since I began my travel writing journey in 2011, when I attended the Ultimate Travel Writer's Workshop in Chicago.
I remember sitting at the workshop and fantasizing about the very thing I experienced in Puerto Rico. I dreamed of far-off destinations and pondered if I could achieve what seemed to be way too optimistic traveling writing goals. For me, that included writing about Caribbean islands, world-class golf courses, and staying in luxury hotels.
My transition to becoming a travel writer was an unlikely one. I entered the workshop as a recruiter specializing in architecture and engineering. I learned that if I followed the steps the experts provided, I could place my stories in glossy magazines and on travel websites, while sampling the exciting perks that accompany writing about unique destinations.
Fast-forward to today, and I've written about 26 different Caribbean islands. I've seen my writing published in dozens of magazines and websites. I've also experienced wonderful all-expenses-paid press trips to exotic locales.
During the Puerto Rico press trip, I rode in a helicopter for the second time in my travel writing career. Buckled in a comfy leather seat, my magic carpet ride above Puerto Rico's scenic coast and the Atlantic Ocean felt effortless. I shot several amazing aerial photographs that I would later use in my articles.
My first-class helicopter transportation served as a preview of what this whirlwind Puerto Rico press trip would be like. After touching down I was welcomed to a serene resort perched on a 200-foot cliff overlooking the Atlantic. The highlights of my two days in Isabela included accommodations in a 1,500-square-foot villa with a private plunge pool, playing golf on a course with seven ocean holes, and savoring a fresh-catch lobster dinner under the stars.
After a too-quick stay in tranquil Isabela, the helicopter shuttled me and another writer to San Juan's premier luxury hotel. This twin-towered property was celebrating its 100th birthday. My suite on the 6th floor overlooked the Atlantic Ocean and included butler service. During an action-packed 48 hours in San Juan, I sailed on a 43-foot catamaran, decompressed during a shea butter massage, and felt my waistline expand after an eight-course meal prepared by a Michelin-starred chef.
Who knew that an architecture and engineering recruiter had what it takes to be a travel writer? Looking back on the start of my journey, I was a naïve longshot who wondered if someday I'd write about Caribbean escapes, golf courses by the sea, and staying in five-star hotels.
I guess I'll never sing and dance like Ricky Martin, but I'm certainly happy with my new travel writer's life. I'm sure there's something lost in translation, but I'm Lovin' La Vida Travel Writing.