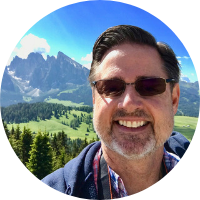 This year, for the third summer in a row, I'll be crossing the pond to visit Italy and southern Europe for three weeks.
The first time I did this (before I was a travel writer), I paid for all of our lodging, meals, transportation, and attractions… in return for a nice, basic… and expensive… vacation.
The second summer (my first big trip as a travel writer), I received more than 20 complimentary overnight stays, meals, and attractions. My family enjoyed a higher quality of lodgings and world-class cuisine, and experienced more memorable excursions and activities. Thanks to these free travel perks, I saved more than $3,000.
The third summer (upcoming in June 2018), I'm hoping to expand on last year's perks and enjoy even more fun-filled, eye-opening, and mind-expanding activities during our three weeks in northern Italy, Slovenia, and Croatia.
But the perks that make such a trip so memorable and affordable don't just fall in a travel writer's lap. For the wished-for perks to become reality, I learned that writers should use this formula for meeting their goals: Plan, Connect, and Persevere.
Plan
First of all, to maximize success, you must have a plan. I try to have the basic framework of my trip completed six months ahead of time, and then fill in the details no later than four months before the trip. You must specifically identify where, when, and what you plan on doing on your trip. Locking in places, dates, and activities make it possible to carry out the second step…
Connect
Connect with editors, CVBs, lodgings, restaurants, and attractions in the areas you will be visiting. Write lots of queries to various editors to get writing assignments in hand. And write concise, focused media requests, using the plan you made in the first step. I try to make initial contact at least four to five months before the actual trip.
Persevere
After making the initial plans and contacts, you must persevere and follow up. Change plans as needed, follow up with details, and confirm reservations. And don't forget to thank those who were generous and offered complimentary perks for your trip.
Here's an example of the trifecta of Plan, Connect, and Persevere in action:
For my June trip, my plan was to:
• Have at least 10 letters of assignment (for paid articles) in hand before my trip
• Have at least 10 successful contacts with CVBs or individual lodgings, restaurants, and attractions for complimentary stays, meals, and tickets
In order to meet these goals, I connected by: 
• Sending at least 30 queries to paid magazines by February
• Sending at least 30 requests for media assistance by February
And of course, perseverance and follow-up will come next.
By planning, connecting, and persevering, you can greatly increase your chances of securing special perks to make your trip more memorable and affordable.