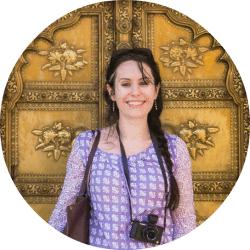 I spend much of my time traveling the world, meeting new people, exploring new places, hearing new languages, and trying new foods. And I haven't had a job in years. 
I'm far from independently wealthy, and while the majority of the travel I do is for work purposes, I also foot the bill for plenty of my own adventures. I can do this because despite being a freelancer—a career choice known for uncertainty—I have a couple of what are known as anchor clients: clients on whom I can rely for regular assignments and who trust my ability to deliver high-quality work… on time. 
In my case, none of my regular clients are big glossy magazines where my stories will be paired with glorious photos and printed for tens of thousands to see. But I'm totally fine with it, because I love what I do for them and I love being able to pay my rent!
Whether you're brand new to travel writing or an old hat, anchor clients will help you maintain the security (and related sanity) to keep your income steady, especially if you don't have other sources, such as spousal support, retirement savings, rental properties, or other sources of passive income. 
Here are a few tips on how to land your first anchor client and maintain a steady income in travel writing:  
1. Identify your skillset. Are you great at editing or proofreading? Have a background in advertising or marketing and know how to create content that draws people in? Leverage your background and skills to figure out what kind of writing-related work you'd be best for. 
2. Make a website. I've got advanced degrees and foreign-language skills and have spent many years in air-conditioned offices, but I rarely send my resume to new clients anymore. My website serves as a virtual calling card-cum-resume-cum-portfolio, and it's what gets me contracts. Even if you're new to the game, a website will show that you are serious about what you're doing.  
3. Network. This goes for every field, but it's especially important in the itty-bitty travel-writing community. Attend professional events, conferences, and workshops, or join online groups and start meeting people. And remember, there's enough work to go around, so be willing to help out your colleagues—the karma will come back to you, and there's a lot of joy to be had in helping others succeed.
4. Actively seek out clients. That's right, cold call. Don't just wait for potential clients to post listings looking for new contractors. Instead, research and email companies and publications that might need your help and send them an intro email!