Sue King is a freelance travel writer who has lived or traveled in over 50 countries. She backpacks, housesits, and loves to explore. Her mission is to inspire people to hit the road and seek out adventures of their own. Sue has been published in lots of travel outlets, including International Living, In the Know Traveler, HuffPost, and LA Travel Magazine, just to name a few. Sue was kind enough to answer some questions I had about her journey into travel writing.
Matt: When did you first realize you wanted to be a travel writer, and what happened to make you feel like you wanted to be a travel writer?
Sue: I always loved travel and adventure but spent many years working in offices and doing extra work to save up enough money for my travels. I would then quit whatever job I happened to be doing, take off for a few months, and then come back, get a job, and repeat the pattern.
I always enjoyed writing and it made sense to write about my passion and try to make money to fund my travels.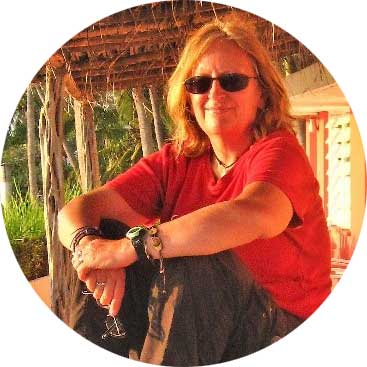 What would you consider your breakthrough moment in travel writing?
My breakthrough moment was writing for a company called GoGoBot. I wrote a few guides for them, and it enabled me to use them as examples when I pitched to other editors.
What steps did you take to achieve this breakthrough?
When I started out, I made a list of travel websites/publications and worked through it, pitching editors. One of the websites that I wrote to was run by a guy who told me that he didn't need content at that time, but that he also worked for GoGoBot who, luckily for me, were looking for content.
Where have you enjoyed traveling the most?
My favorite countries are India and Mexico for their culture and color, followed closely by New Zealand for its stunning landscapes. I also have a passion for the Southwest U.S., which was one of the first places traveled extensively. It's a tough question, as there are so many amazing places!
Do you have any hot tips to help aspiring travel writers get their first piece of business?
Check out the type of content that the website or magazine publishes and pitch accordingly. Also, if there are guidelines, make sure you follow them exactly. It helps if you can provide photographs to accompany the articles. You don't have to have an amazing camera so long as you can take a decent picture. Apart from that, it's important not to be discouraged. For every 20 pitches I send, I may get just a couple of responses. Resilience and determination to succeed are the most important qualities.
Which do you prefer, traveling or writing?
Travel will always be my first love and writing is a by-product of that passion.
Are there any warnings you think aspiring travel writers need to hear? Any traps to avoid in their writing? Any mistakes they might make when approaching publications?
The only trap I have fallen into so far was not being paid for about $600 worth of work that I did for a new website. The editor of the website advertised for a team of writers and none of us got paid! It's always a good idea to sign a contract, although often it's not offered. Having said that, I have undertaken plenty of work without a contract and, apart from that one incident, I have always been paid.
How do you know when you have something to write about/a story?
You can write a story about anything if you try hard enough! You just need to look at things from every angle. I think the best stories and articles come from places that are off the beaten track or that people haven't heard about, rather than major attractions.
Which publications have you written for?
I have written for HuffPost, Wanderful, Great Escape Publishing, Writer's Weekly, WanderGoGo, MisAdventures, GoMad Nomad, Price of Travel, Girl's Getaway, Dollar Stretcher, Travioor, TravelSignPosts, Inspired Senior Living, In the Know Traveler, Campsites.co.uk, My Itchy Travel Feet, Chasing la Bella Vita, Travel-Wise, Travel and Talk, LA Travel, Eat Your Word, Freedom with Writing, Matador Travel, Go Overseas, Epicure and Culture, HelpStay, Offbeat Travel, Trip.com by Skyscanner, TravelPride and Best in Travel.
Which piece of your own work are you most proud of?
I am hoping it is going to be the project I am working on at the moment: I'm currently writing a travel guide on my hometown of Brighton for Touch Screen Travels, my largest undertaking to date.