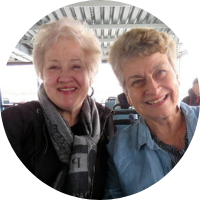 We had both just received our ITWPA membership badges and were keen to start using them.
So, when we "met" each other virtually in the Travel Writer's Café—and realized we both had an interest in touring New England and wanted a travel buddy—we felt inspired to plan a trip together!
The trip was great—but our ITWPA badges made it even better. From tasting sessions to guided tours, our badges provided us with free entry to attractions—all in exchange for our plans to get articles published about our trip.
Of course, we had already planned to write articles, but being relatively new to travel writing, we didn't have a lot of bylines to show, and that made it intimidating to ask for free entry to the sites.
But our badges lended us instant professional credentials and confidence.
Here are some of the highlights we enjoyed…
Our first welcome and complimentary entrance was at the 45-acre Shelburne Museum in Shelburne, Vermont. This outdoor museum features 25 historic structures that highlight history, architecture, daily life, art, and artifacts, all of which depict New England life in the last four centuries.
We continued a short distance to Ben and Jerry's ice cream factory, where we got free admission to the guided tour. Of course, it also ended with free samples.
Less than 20 miles away, we stopped at the town of Stowe. Here, at the Von Trapp Lodge, we received a complimentary entrance to the guided tour. We learned that this was the place where the family that inspired The Sound of Music settled after fleeing Austria during WWII, and we particularly enjoyed the history video, which featured an extensive interview with Maria Von Trapp.
Then, we received free admission to the Von Trapp Brewery… with a complimentary brew at the end, of course!
Heading south, we ventured to the city of Manchester, home of Hildene: the most significant Lincoln family home outside of Illinois. Here we received our warmest welcome yet…
We were granted an in-depth interview with the press director, complimentary entrance to the estate, a flash drive with photographs, reference notes, and a jar of Hildene honey. The press director also alerted the docents to our visit, to ensure we received special attention at each site.
Total comps for the 7-day trip were $113 per person—which means we nearly covered the yearly cost of our ITWPA membership in just one trip!
On our final day, after a drive through Arcadia National Park, we settled on the deck of our hotel room overlooking Bar Harbor Bay, having a farewell drink. We took stock of our road trip, wrote thank you letters to our generous hosts, and listed our prospective articles.
So far, between us, we've had five stories accepted for publication from this trip, and a few more in the works. Really, it's a win-win: new bylines for us, and good publicity for the destinations that were so generous in hosting us.
In the end, we're so happy to have received so many perks—each experience enriched our New England trip. We're really looking forward to the next one!