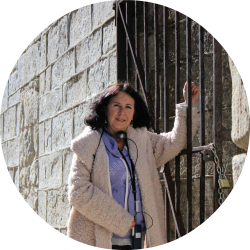 In 2015, I thought perhaps I'd hit rock bottom. I was a stringer for a weekly community newspaper for more than six years, with more than 850 published feature stories and four Keystone Press Awards to my credit.
When the number of stories I covered on a weekly basis had diminished from an average of three or four per week to one, I knew I needed to find another niche.
Over the years, on the heels of many ups and downs in print journalism, I knew eventually the day would come when I would be "pounding the (virtual) pavement" looking for work. A 53-year-old journalist doesn't have a lot of options in a small town, or so I thought…
But, then something magical happened. The owner of an online tourism website contacted me via social media to ask if I would consider writing for his emerging travel site. My first assignment was a press tour of Kalahari Resorts and Conventions' newest location in the Pocono Mountains. Two months later, I was invited to the grand opening and both events contributed to my first stories and photos for the tourism page.
For the record, I'm an extremely cautious "over thinker" by nature, but after Kalahari, I knew travel writing would allow me to meld journalism with exciting opportunities to see the world. I made a conscious decision to stop questioning whether I could be a successful travel writer.
Seven months later, I was on my way to a casino resort for a memorable weekend that included comped lodging in one of the resort's swank king-sized rooms, meals, a 50-minute massage, and a personalized tour of the facility.
That was a stay I'll always remember. The thought of someone going above and beyond to cater to me was beyond my expectations.
I took the time to prepare myself for that assignment by subscribing to Great Escape Publishing's comprehensive travel-writing and photography programs. The online courses provided me with a foundation, essential tools, and added confidence. Sure, I was a bit anxious the first time I called a sales manager at a resort to request comped lodging, but the programs prepared me for that moment and the subsequent 13 trips.
Even if you don't have an outlet for your stories, plan your travels and keep searching for the perfect publication or online site for your stories. Many years ago, when I was breaking into communications, we didn't have the web as a resource. Today, there are infinite possibilities.