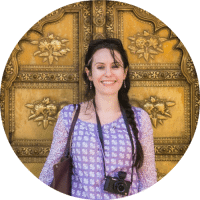 For a long time, I thought food writing was out of the question for me. Sure, I like to eat at least as much as the next person. But I also follow a strictly plant-based diet. And most people don't. 
That's not to say I haven't found workarounds. One of my first travel-writing jobs was for Time Out magazine in New Delhi, India. Because India has a large number of vegetarians (plus tons more people who eat vegetarian food at least once a week), pretty much all restaurants have veggie-friendly options. 
At the time, I was still eating dairy, which meant I could try the food pretty much anywhere and get a good enough idea about what was on offer to write good reviews. However, I did make a point of bringing a meat-eating photographer with me to try the non-vegetarian selections and give me input that I could then share with my readers. 
After India, I moved to the U.S., gave up dairy products (effectively becoming vegan), and with it figured my chances of ever writing about food again were up. 
But then I realized that my "special" diet actually served as an excellent niche—that I could cover vegan restaurants and the vegan experiences at mainstream restaurants and still maintain my normal diet. 
After all, there are plenty of travelers out there who share similar dietary preferences to my own, and who better to write for that niche than someone who understands what it's like to be in their shoes?
So if you happen to be one of the millions of people who follow a vegetarian, kosher, gluten-free, soy-free, lactose-free, or low-sugar diet, here's how you can leverage this to your advantage: 
1. Write for specialty websites and magazines. There are plenty of publications out there catering to people who follow niche diets. Research them and pitch away. 
2. Cater to the mainstream. Just because you follow a special diet doesn't mean you can't get your food writing posts in mainstream, traditional publications. Plenty of publications like niche food round-ups and stories, especially when they can be pegged to current trends and events. So if a new study on gluten is making headlines, pitch your piece about gluten-free options in Rome. If "Meatless Mondays" are becoming a big trend in your city, pitch your vegetarian piece. And then pitch more and more and more. Who knows, you might become the go-to person for food niches stories.
3. Learn to write recipes. Food publications have a huge need for writers who can craft their own recipes… and this is especially important if you are dealing with a special diet. Have a recipe for "sugar-free raw vegan gluten-free nonfat donuts" that don't taste like potting soil? There are editors out there who want to talk to you!