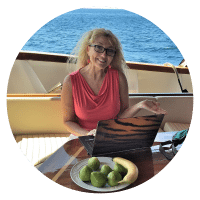 Recently I was invited to participate on a press trip to Romania and Moldova. I immediately said yes—and what a great decision that was. 
Romania is one of the prettiest countries in Central/Eastern Europe: Enchanting town plazas that date back to medieval times, rolling hills as far as the eye can see, Transylvanian castles cloaked in the mystery of Count Dracula, craggy mountain vistas, and a seemingly infinite array of fortresses and churches. And don't forget the Transfăgărășan—named by Top Gear as the best road trip in the world.
Moldova, while not as scenic, was unique in its own right. The former Soviet bloc city of Chisinau was an interesting juxtaposition of utilitarian and historic. And visiting the vineyards, wineries, and distilleries to sample their world-renowned wines and cognac was a lot of fun.
When planning the trip, I realized Eastern Moldova shares a border with Ukraine—a country I'd never visited. I was a bit concerned because of all the controversy surrounding the invasion of Crimea in Ukraine, as well as the economic challenges of the former Soviet-controlled country. But I wasn't ready to give up; I love extending press trips to include neighboring countries. Upon further research, I found the Ukrainian city of Odessa. It was close to the border of Moldova, and liking what I read, I figured I'd add it to the end of my trip.
A couple months before leaving, I contacted Odessa's tourism board and several boutique hotels to inquire about being hosted as a travel writer. Without exception, they all either ignored my requests or declined providing any comps. I reached out to the tour agency I was traveling with. Their inquiries were also ignored. 
Compare that to Ukraine's neighbors, Romania and Moldova, who are making great strides in opening their doors, promoting their positive attributes, and increasing tourism. They've been reaching out to tour agencies that specialize in Eastern European destinations to invite and screen travel writers and bloggers for press trips. 
The favorable press has helped their economies. Romania, which was once considered a poor country, is now the fourth fastest-growing travel and tourism destination in the world. Moldovan wine tours are growing fast in popularity, too. 
Clearly, Ukraine is missing the boat. But as it's inexpensive, I decided to go anyway.
Odessa is a port city on the Black Sea, founded in 1794 by the Russian empress Catherine the Great. While it's a tourism destination for Russians and Eastern Europeans, it's largely been invisible to most of the western world.
I found the Old Town of Odessa to be attractive, filled with tree-lined boulevards cradled by opulent European-style buildings, outdoor cafés, and shops on each side. Designed by the same architects as the Vienna State Opera, the sumptuous Odessa Opera House is the visual heart of the city. Here I am in front of it: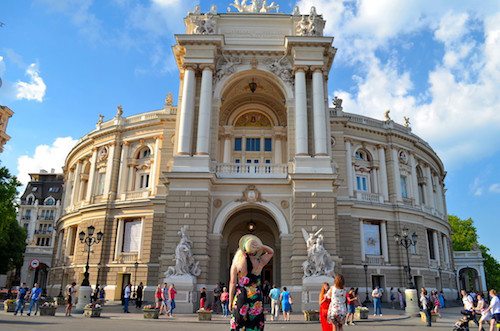 The steep Potemkin Steps led me from the scenic port views in downtown to the harbor below. 
I walked through the labyrinth of catacombs—perhaps the world's largest network of tunnels—underneath the city where the insurgent partisan army resisted and hid from the Nazis. 
Another day I took a short drive to the 13th-century Akkerman Fortress to explore the grounds of one of Ukraine's largest and best-preserved castles. Near the fortress, I also visited the Shabo winery, an über-modern operation with a strong Swiss heritage.
And, of course, you can't ignore the siren's lure of the Black Sea. Arcadia is the most popular beach resort and nightlife area—not just in Odessa, but in all Ukraine. I was mesmerized by brilliant emerald green waves crashing onto a sandy-but-windy beach. I enjoyed sample Ukrainian street food while gazing down at the beach from the boardwalk with its myriad eateries, souvenir shops, chic nightclubs, and children's amusements. 
Odessa is a place of incredible history, beauty, and diversity. Safe and uncrowded, it's a destination I could definitely recommend and believe other Americans would also put on their radar… if only they knew what a gem it is. Hopefully, it won't be long until its tourist board wakes up to the value of travel writers.